Dave Concepcion
---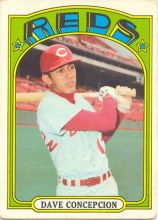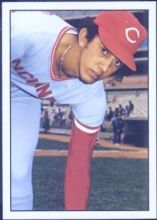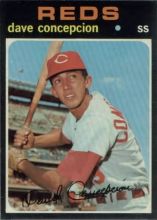 Nominated by: Tom Housley
---
---
---
Why did Tom Housley nominate Dave Concepcion for the HOM?
---
I chose Davey for several reasons: He was the anchor of the Big Red Machine infield of the 1970's (my favorite team), but was overlooked when it came to publicity; he was overshadowed by larger-than-life guys like Rose, Morgan, & Bench. Since he didn't speak English well, he wasn't a go-to guy for most reporters. He wasn't even the best Latin on the team; that honor goes to HOF'er Tony Perez. Yet, his outstanding glovework made the defense of that team what it was. He was the best SS in the majors (at least in my unbiased opinion) until Ozzie Smith came along, and he perfected the one-hop skip throw across the Astroturf - a method which actually added speed to the throw.
In addition, as a skinny kid growing up playing the infield, I looked up to Davey. He was a slap hitter with speed - just like I was (well, I wasn't as fast, but you get the idea), and he wasn't going to hit many homers either. But he took pride in his defense - his main contribution to his team.
The last thing I'd like to mention is that he spent his entire career with the Reds - something that is too rare anymore. Plus, in his last couple of years, he became a super utility infielder on some truly awful Reds teams - and mentored the young kid who took his job - a guy by the name of Barry Larkin. In fact, Davey was the middle link in a pretty long run of shortstops for Cincy: Chico Cardenas took over around 1960, Davey took over full time in 71, and then Barry Larkin lasted until about 2 years ago. (Admittedly, Darrell Chaney & Woody Woodward were "caretakers" for about 2 years until Davey was ready, but they don't count :-)).
For his on-field grace, for his vital role as an under-rated member of one of the greatest teams ever, and for allowing skinny slap-hitting little leaguers everywhere to have someone just like them on a big league team - and since it seems his HOF chances aren't going to improve - I hereby nominate David Concepcion as my candidate for the OBC HOM.
---
---
OBC: A Tradition of Excellence since 1991
Old Baseball Cards (OBC), copyright © 1991 -
Unauthorized use of the material contained
on this page is strictly prohibited.