The OBC Website
---
The OBC website is http://oldbaseball.com. The home page is generally able to detect your platform (workstation, laptop, mobile device) and browser (Google Chrome, Microsoft Edge, Mozilla Firefox, Opera, or Safari) and adapt to the technology you're using. The webmaster is Joe Isaac and he can be contacted through the Directory or the links in the "Contact Us" task item, also found on the OBC home page.
Navigation Bar Icons
The navigation task bar is the horizontal wood-grain bar at the top of each page of the new redesigned OBC website. It should be visible on this page, and it contains several useful icons on the right side. The OBC home page can be displayed by clicking on the small house icon in the task bar. The magnifying glass provides a simple site search tool, but you may have to scroll through some of Google's ads and a few unrelated links before getting to the search term hits on the OBC site. This screen of help information can be accessed by clicking on the question mark in the circle. For logged-in OBC members, the OBC Message Center is accessed by clicking on the envelope icon and it will list current and previous messages received for up to 2 weeks. The total number of any current messages that have not yet been seen will appear in parentheses next to the envelope icon.
Navigation Task Groups
The navigation task groups are listed at the left side of the horizontal wood-grain bar at the top of each page in the OBC website. It should be visible on this page, and it contains several groups of useful links. Many of these are available to the general public, and the rest of the tasks are reserved for OBC members who have logged in with their name and assigned password. Once you log in, you'll stay logged in until you manually log out. Please note there is a 30 day limit which you can stay logged in, then you will be automatically logged out.
Task Group: OBC Home
OBC Home: Displays the OBC home page (initial screen).

Member Login: If a user is not logged in, this option can be used to select the member's name and enter the login password.

Member Logout: If a user is logged in, this option can be used to end the current session.

General Help: Displays this documentation file.
Task Group: Directory
Directory: Displays the OBC Active Member Directory. If the user is logged in, the Directory listing will include each member's mailing address.

Inactive Members: Displays the OBC Inactive Member Directory. If the user is logged in, the Directory listing will include each inactive member's mailing address.

Retired/Limited Members: Displays the OBC Retired / Limited Member Directory. If the user is logged in, the Directory listing will include each limited member's mailing address.

OBC Certified Dealers: Displays a formatted table of card dealers who work especially well with OBC collectors by offering discounts or setting aside low-condition cards for sale at regional and national card shows.

Who Collects What: Displays several categories of collectable cards, and a list of OBC members who are actively pursuing the various sets within these categories. Each member's name is a clickable link to the corresponding member's want list.
Task Group: Resources
OBC Specials: Displays a list of research projects and related resources from OBC members.

The Library: A large collection of scholarly articles written by OBC members about the hobby.

Cool Links: Miscellaneous external links to valuable information, useful tools, and hobby articles.
Task Group: About Us
Frequently Asked Questions: Valuable information and explanation of the OBC organization, including a brief history of our group.

Rules of Conduct: A formal document which describes the group's by-laws, election procedures, and disciplinary actions.

Contact Us: Email addresses for OBC board of directors, OBC Facilitator, Webmaster, and Treasurer.

Apply to OBC: This is a form that can be filled out by anyone wanting to join the OBC group. Questions can be answered and submitted to the OBC Advisory Committee to apply for membership.

OBC Member Photos: For logged-in OBC members only, this is a display of posed and "in-action" photos in the style of 1960 Topps baseball cards.

OBC Member Biographies: For logged-in OBC members only, this is a list of the life stories of many of the OBC'ers who have filled out optional biographical information.

Collector Recognition Levels: This members-only document honors the collectors in OBC who have met or exceeded different levels of distinct vintage cards collected, usually tens of thousands of cards.
OBC Member Profiles
This refers to organized information about OBC members which is kept on a database on our web site. Keeping the information on a database, and creating web pages "on the fly" by pulling our profile data in to the web pages helps protect our confidential information (such as home mailing addresses, phone numbers, email addresses, etc.) while at the same time providing us with all the critical information we need to make our online trading as enjoyable as possible.
Important Parts of the Member Profiles
Member Passwords
were initially assigned and emailed to every member. There is a feature which allows you to request to have your password sent to the email address currently in your profile. A member password is needed to access any of the confidential reports and features available on the website, and is also needed to enable you to update your own profile information.
Directory Information
consists of personal data such as mailing address, phone numbers, email address, month/year you joined OBC, etc. Non-confidential parts of this information are loaded into the OBC Directory Page which is visible to anyone clicking on that link. When an OBC member is logged in with his or her account and password, the confidential personal information will be visible on the Directory listing.
Favorite Sets
are current sets that OBC members have in progress. This information is used in our "Who Collects What" listing and makes it very convenient for people who have duplicate cards to determine who's working on that particular set by presenting links to want lists grouped together.
Updating your OBC Member Profile information
From the OBC main menu page at https://www.oldbaseball.com, make sure you are logged in with your name and password. Hover over the top-level navigation task group labeled OBC Home, and click on Member Login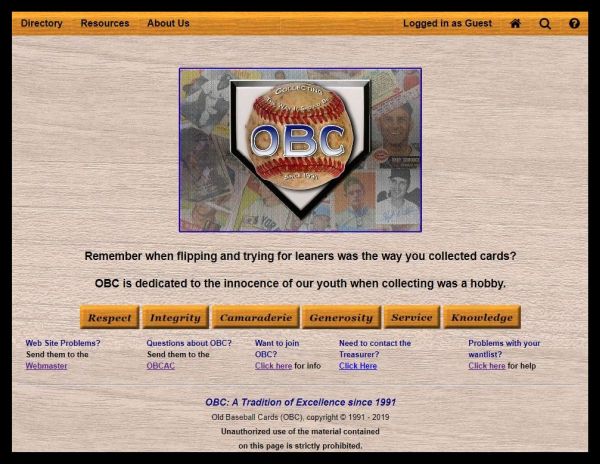 If you're an OBC member who has forgotten your password, you can arrange to have it sent via email. Simply hover the cursor over Logged In As Guest in the upper right corner, select Email Password, select your name from the drop-down list of OBC member names, and it will be sent to your email address that is currently on record for you.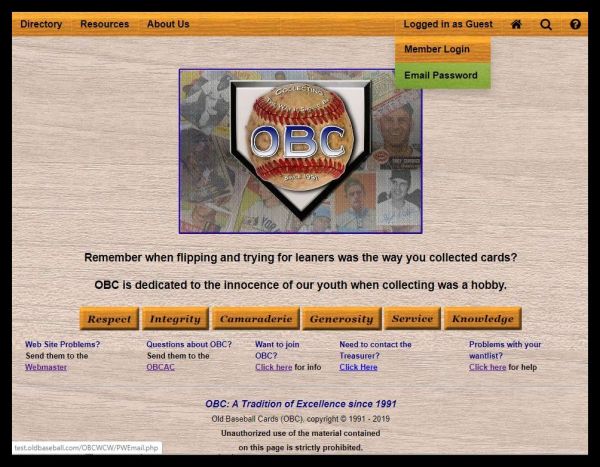 Click on Member Login under either the Log In As Guest or OBC Home task groups. When logging in, simply select your name, and enter your password on the following screen: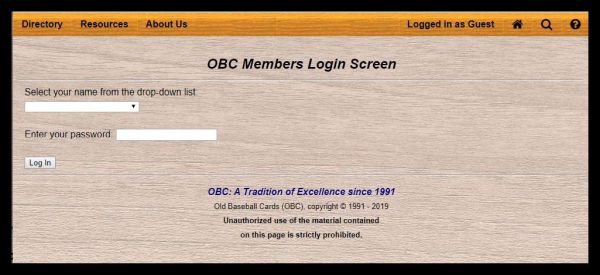 You will be returned to the OBC Home Page after logging in with your OBC account and password.
Having selected the OBC member's name and entered the correct password, the top navigation bar greeting changes to Logged In As <member-name>. Hover the cursor over this greeting message, and click on the option Update Profile Info.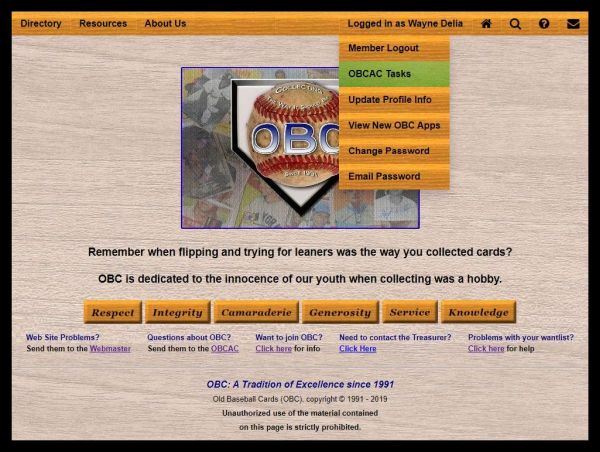 Click on the next page's first link, Update OBC Profile Information, and enter any changes you want to make on the next input screen. The following page is used to update all member profile information and the specific sets collected by clicking on the "Update Profile" button.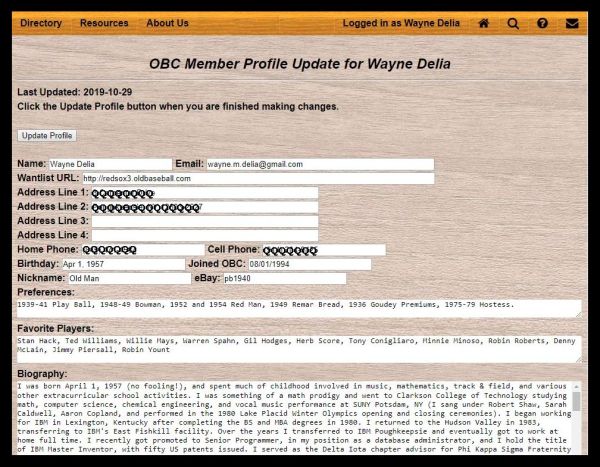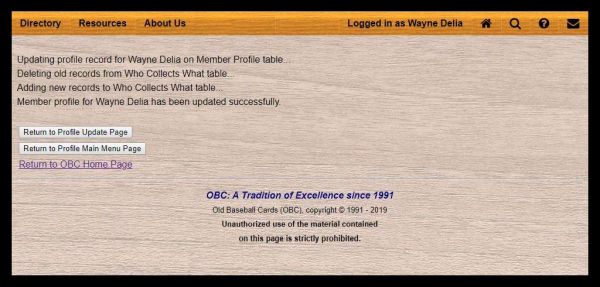 If any error messages are received, please contact the Webmaster as soon as possible, using an email link on the OBC home page, or use the Contact Us task in the About Us category.
Click any of the buttons or links to navigate back to wherever you want to go.
OBC "Who Collects What" Page
The "Who Collects What" page is one of the most popular and useful features on the OBC web site. It is a non-confidential area (no login needed) to see which OBC members are actively collecting what specific sets, all arranged by the various sets. Each listed member's name is a link to the corresponding member's current want list. Navigate to the Who Collects What? task under the Directory task group in the top horizontal navigation bar.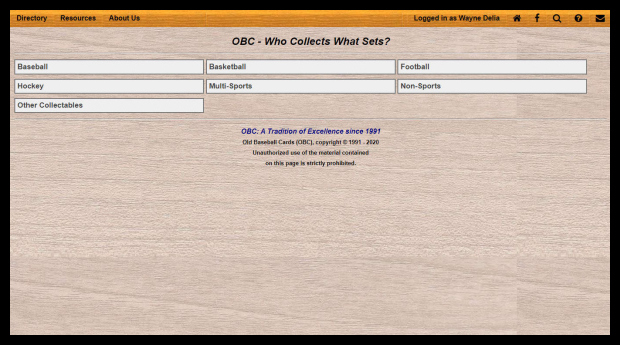 Each of the category graphics is clickable and leads to a listing of sets within that category, including the names of all OBC members who have indicated their interest in each particular set. Clicking on the Baseball / Bowman / 1948 Bowman tabs displays the following screen of links to the want lists of OBC members collecting that particular set.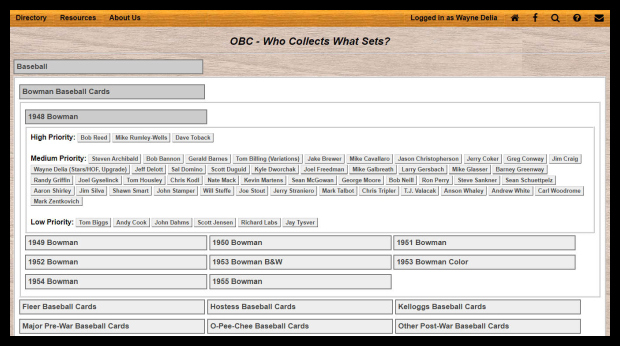 ---
OBC: A Tradition of Excellence since 1991
Old Baseball Cards (OBC), copyright © 1991 -
Unauthorized use of the material contained
on this page is strictly prohibited.