---
Jimmy Cardascia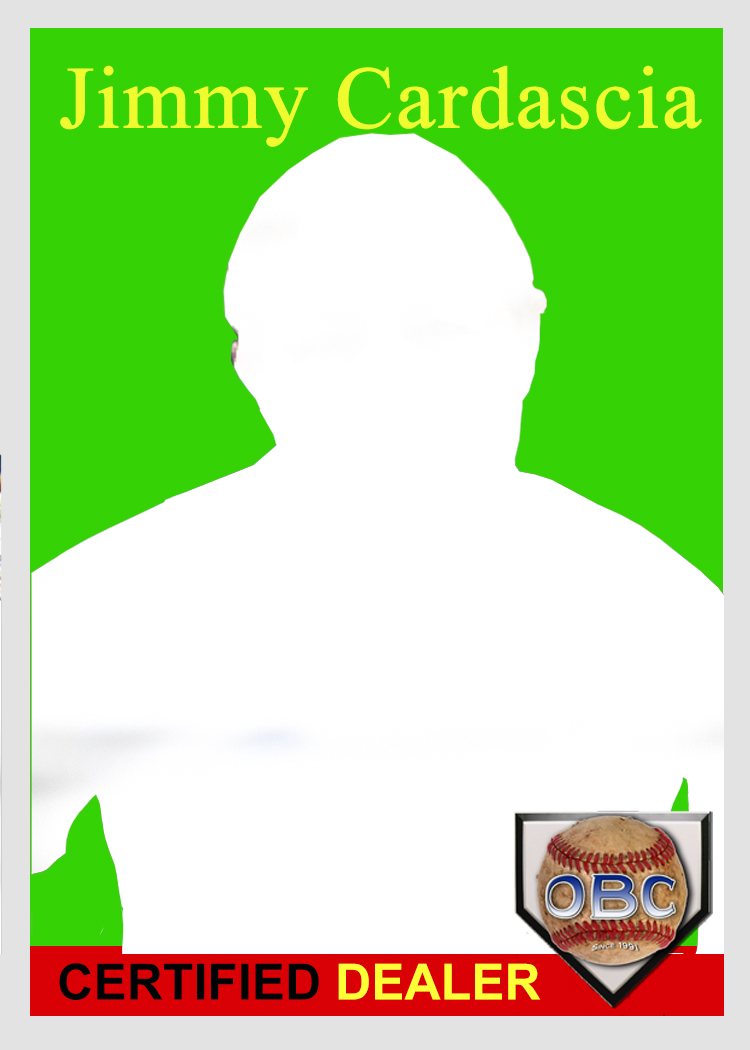 ---
William Chappell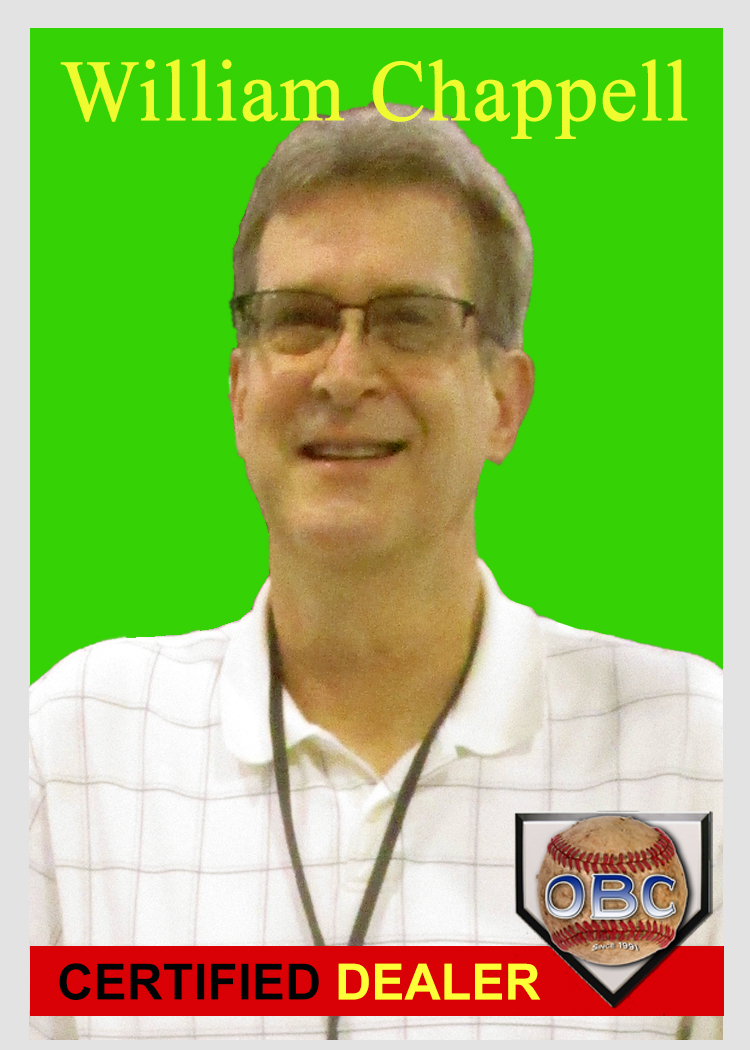 ---
Larrie Dean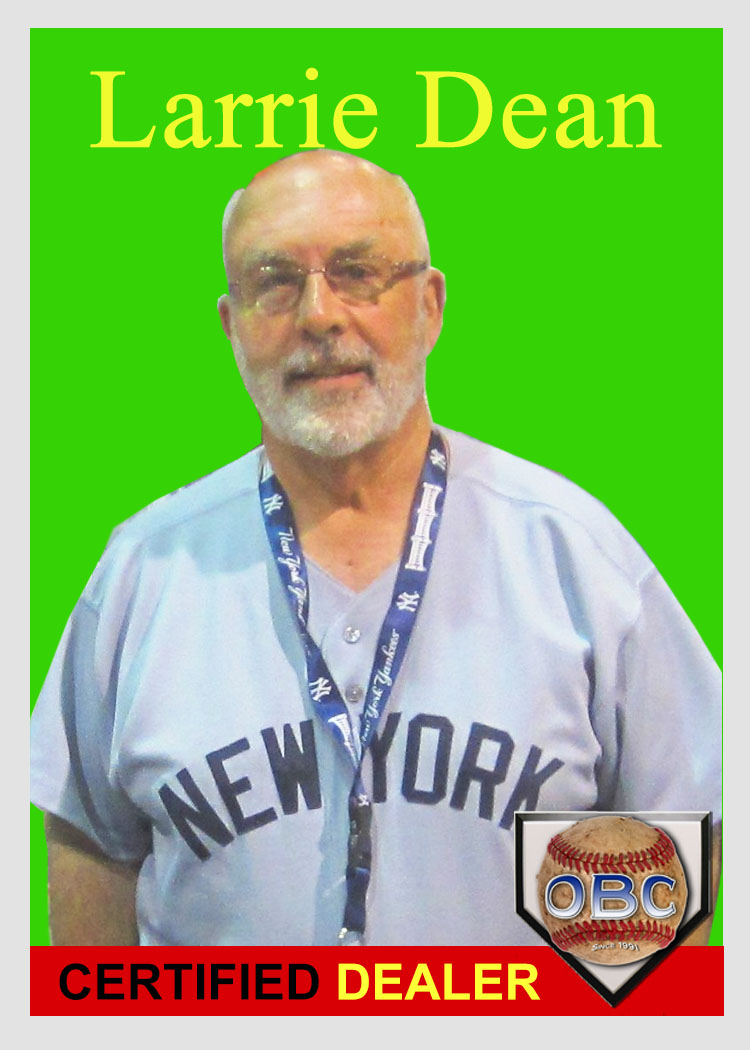 ---
---
OBC Discount:
10%
---
Dealer Comments:
At shows I have boxes of 1950s cards discounted 65-90% (OBC members receive an additional 10% off). Please e-mail or call if you have questions or with want lists. We do travel extensively for fun however we are always available via e-mail!
Dick DeCourcy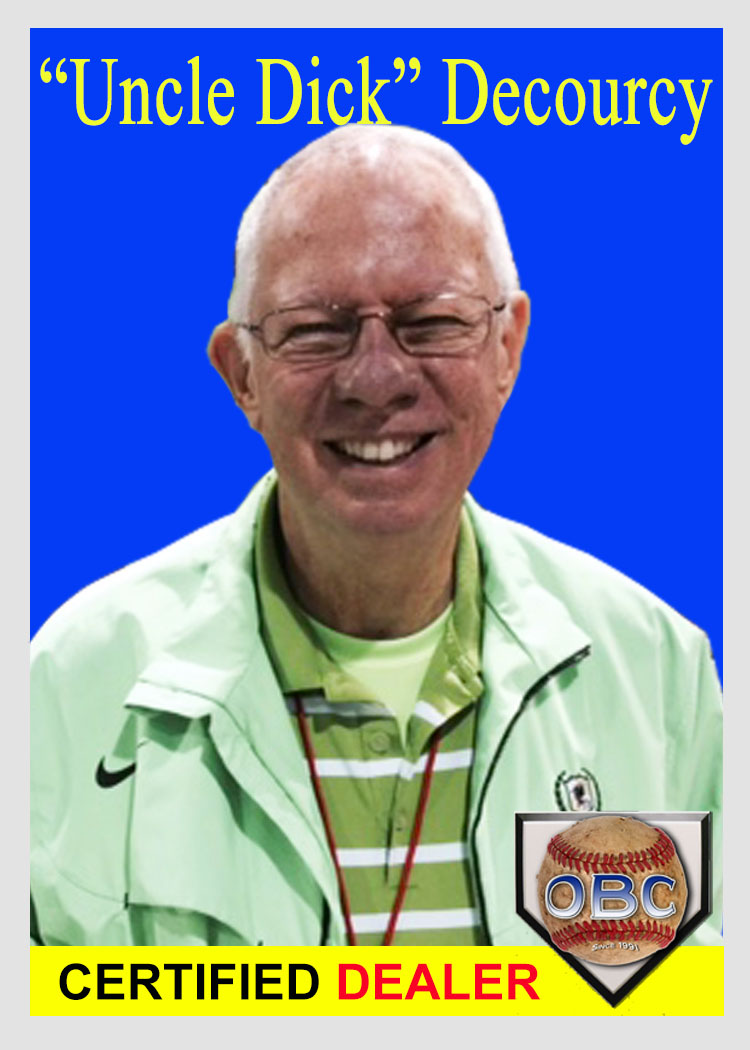 Retired
---
---
OBC Discount:
Varies based on my cost, but I always try to be very fair especially to OBC
---
Dealer Comments:
Similar feelings as Chandy only I smile more than him. In reality, I try to stock all commons and stars from the Bowman era through 1978 Topps in Baseball, 1973 in Football, Basketball and Hockey, as well as a good sampling of non-sports. I also carry 3 $1 boxes, 3 $2 boxes and 3 bargain boxes and a section entitled "Superstar cards at bargain prices".
Ron Estes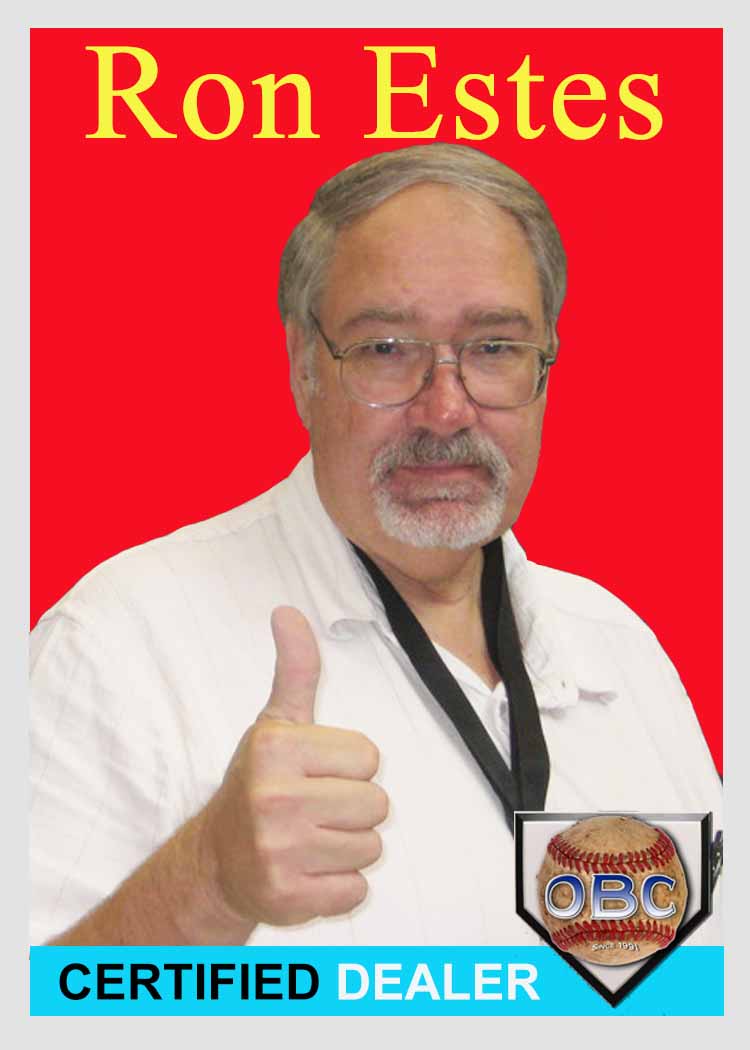 ---
---
OBC Discount:
I have a fair discount for all customers of 20% for most of my inventory. I have given more of a discount to customers, and that includes several OBC folks, depending on how much I have paid, if they are buying in bulk and if they are return customers.
---
Dealer Comments:
I carry mostly 50's-70's baseball, some football and fewer non-sport cards. I usually have bargain boxes of 90% off or more and usually a star case or two of 80% off or more of Beckett price. I carry several binders for set building folks and have been known to carry some cards from the 1800's-1940's when I can purchase them to resell reasonably. I appreciate the valuable information from OBC folks of product that I sometimes cannot identify and the worth of such.
Greg Fisher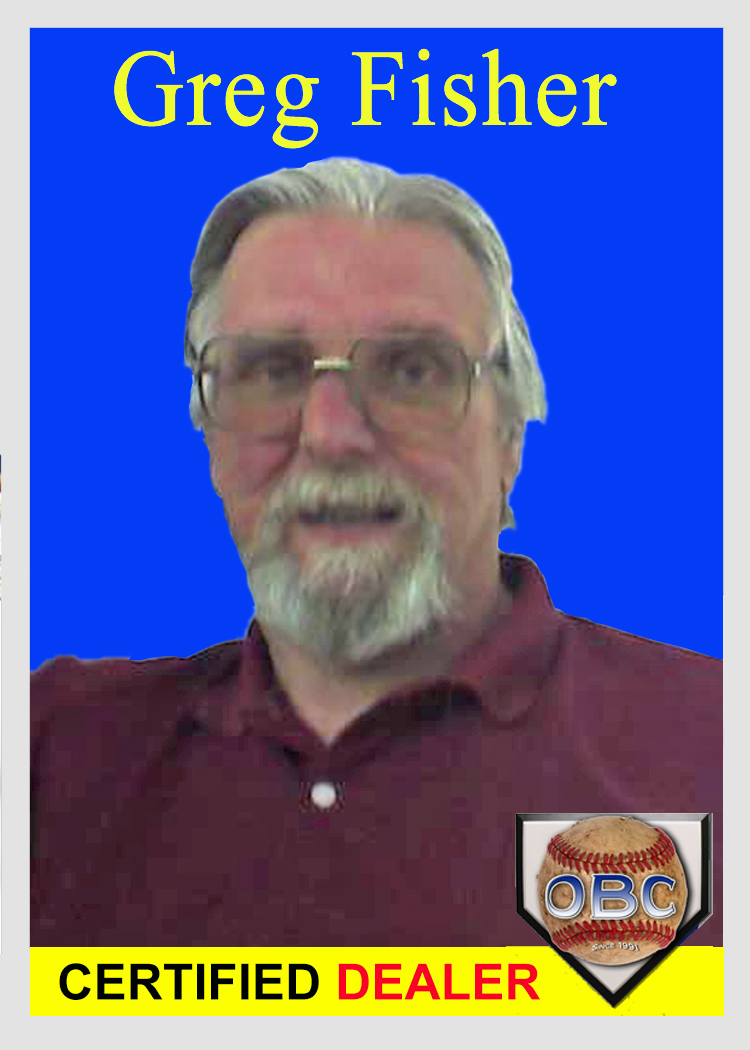 Cameo Cards
---
---
OBC Discount:
free s&h
Chandy Greenholt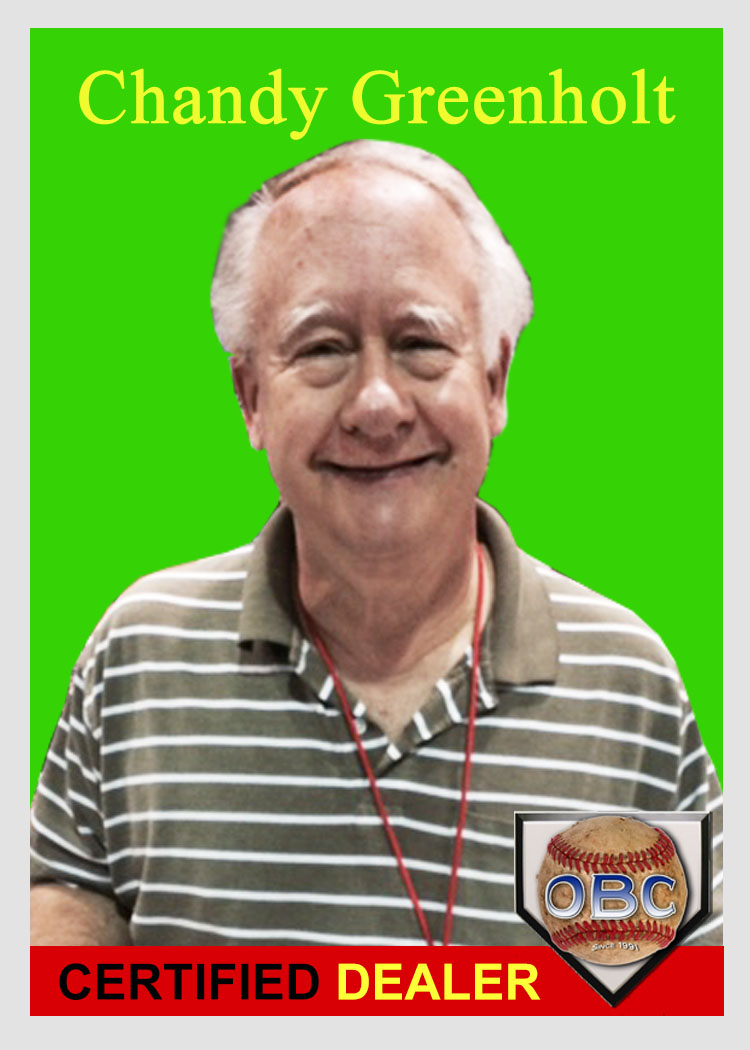 ---
---
OBC Discount:
No....sorry, I don't have a special OBC price... I try to price everything to move and will give people my best price on anything that's not priced...
---
Dealer Comments:
Just a hearty welcome to anyone from OBC..... always a pleasure to deal with people who don't have to use a magnifying glass to buy a common card for a set....I never did, either!
JD Heckathorn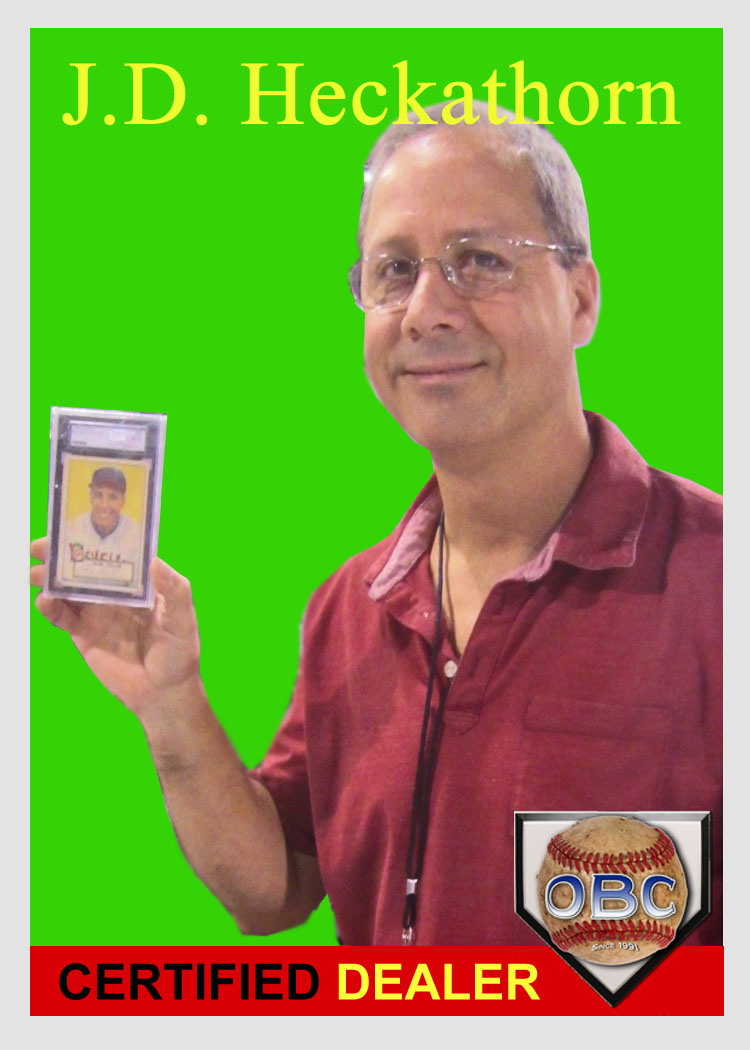 ---
Ted Holden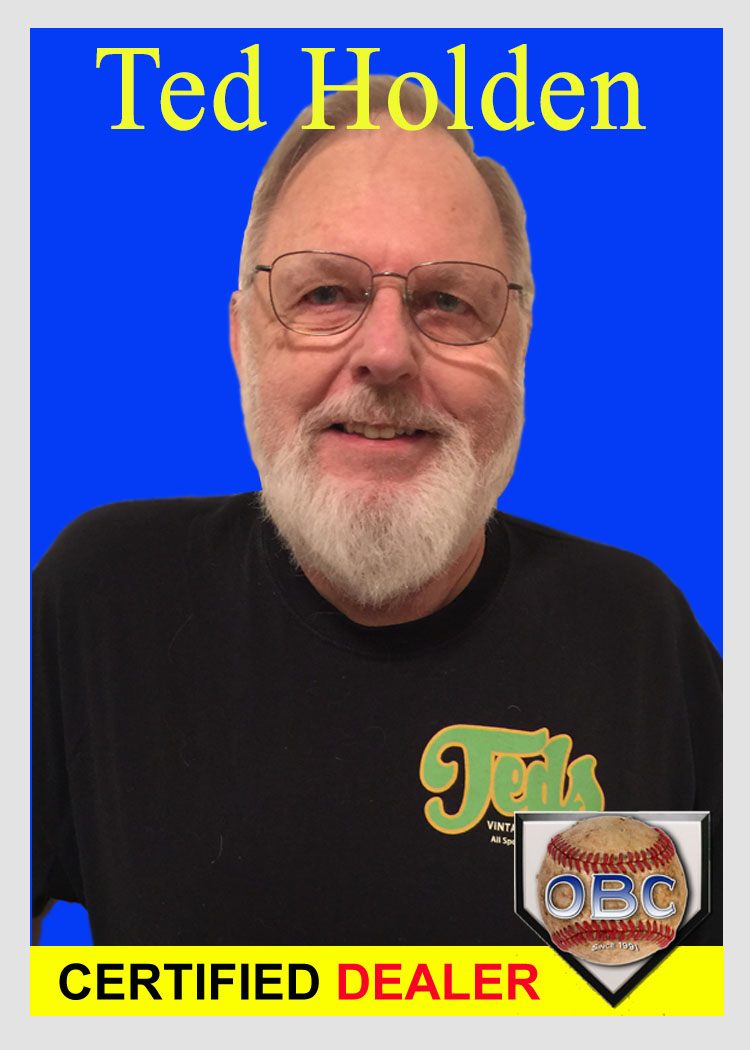 ---
---
OBC Discount:
Direct Deal Discounts: 20% all Commons & minor stars. If the deal is over $100, discount is 25% on all. At $300 we can move to 30%. For bulk lots of many cards for dealers etc. will negotiate. I will accept cards from my favorite issues, noted below, as partial payment in any deal. Please note: I do not have much in the way of Super Stars or High/Low numbers short printed in the 50's. My inventory now consists of 1950's Topps baseball, many other brands of baseball and multiple years of all other major sports.
---
Dealer Comments:
After over 40 years in corporate life in the Financial Services Industry I retired and found something more fun to do with my time. Now it is time to downsize the business and concentrate on my personal favorites. They are 1956 or older Topps & Bowman, and all brands and years prior to WWII. I also like Regional Issues and Oddball like Meat, Beverage, Potato Chips and the like from the 60's back.
Jack Kerekes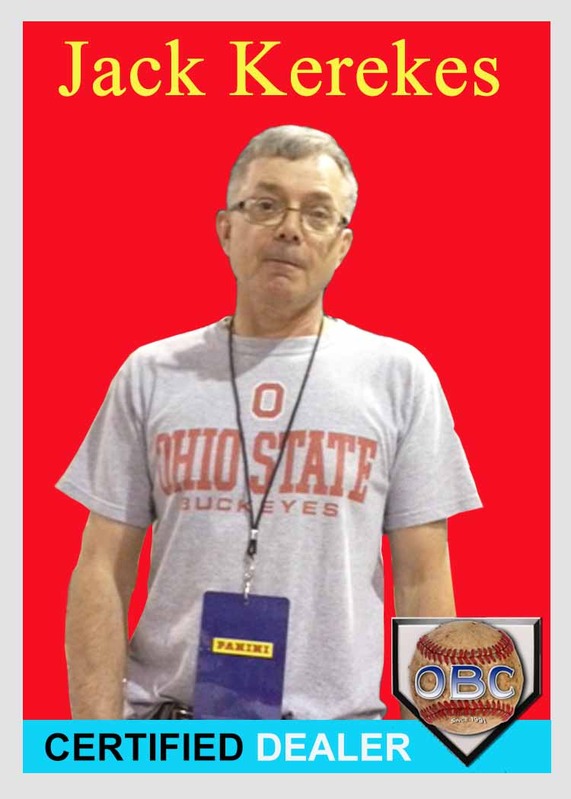 ---
---
OBC Discount:
15% discount on all orders over $5
Randy Kniffin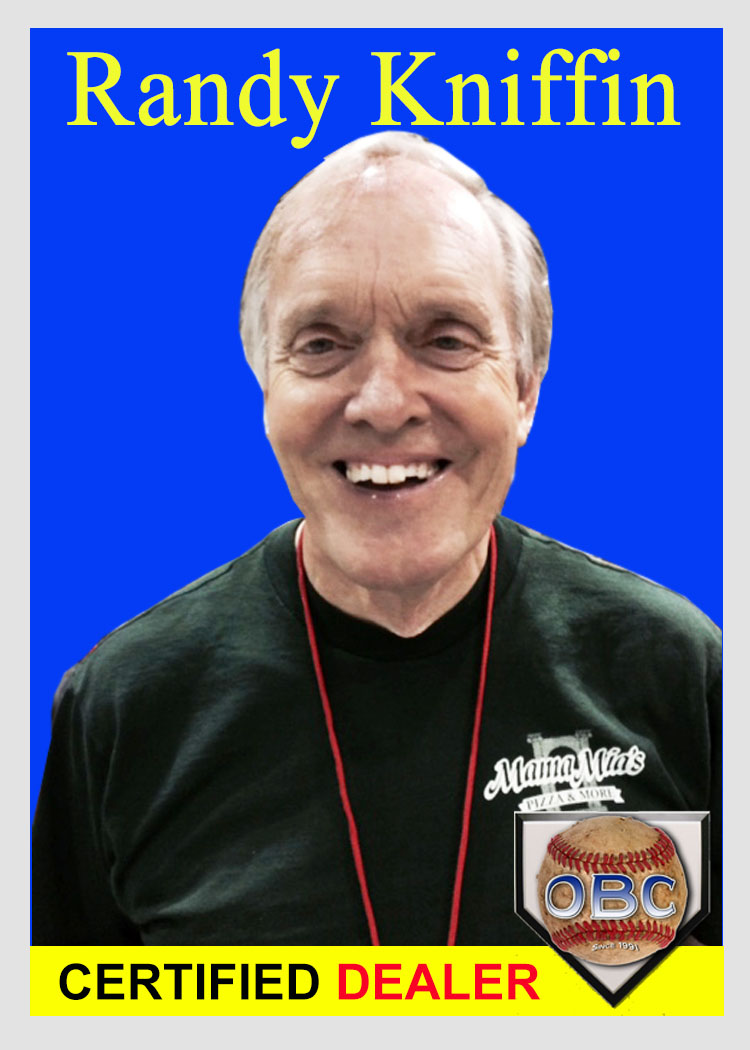 ---
Stan Loch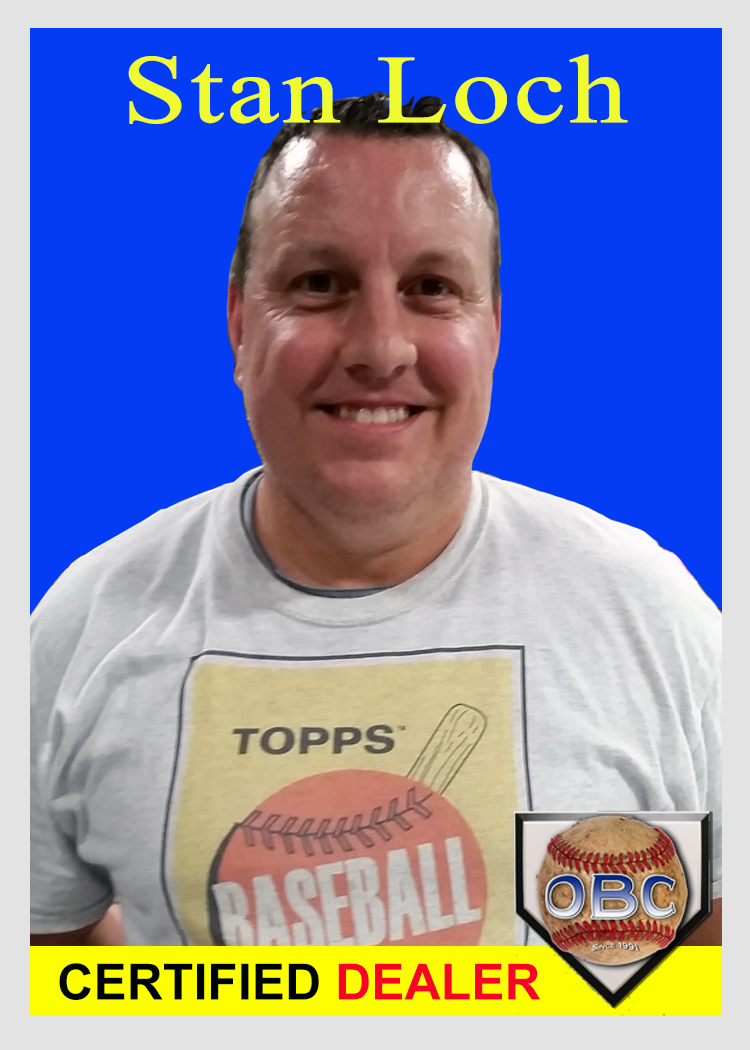 ---
Mark Macrae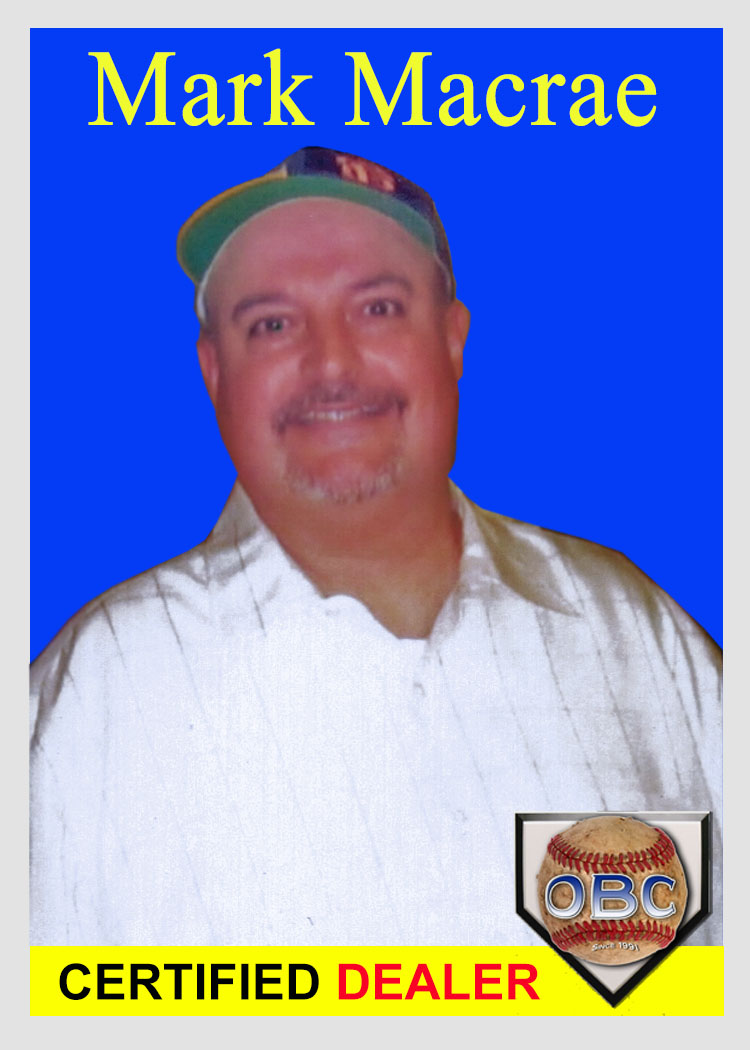 ---
---
OBC Discount:
Yes, OBCers must identify themselves as such. Depending on the items, discounts of up to 25% apply.
---
Dealer Comments:
OBC discount schedule is the same..... several members are in contact with me via email........... I (still) do not have a website. There are currently 26 categories of sales lists. All are available by #1) Requesting a Sales List Menu from Me.... All lists are available, free of charge, via Email. Inventory is still added daily. The only shows that I currently set up at at the WSSCA show in Seattle (Brian Lindholme, Dave Fallen, Rick Lyons, Al Cummings, Mike Diamante regularly attend & we know each other) ; San Leandro (SF Bay Area... the shows that I have promoted for 26 years, although there are currently no active members in this area), Pleasanton, California (A 2 man show with Roger Neufeldt that is 'invitation only and for our customers.... but unfortunately no OBCers are active in the SF Bay Area. They would be welcome to attend, and there would be plenty of pre Charboneau era cards for them to enjoy, plus a focused group of attendees, the majority of which collect that same category) and I appear at the National just to visit friends and customers.
Mike McCann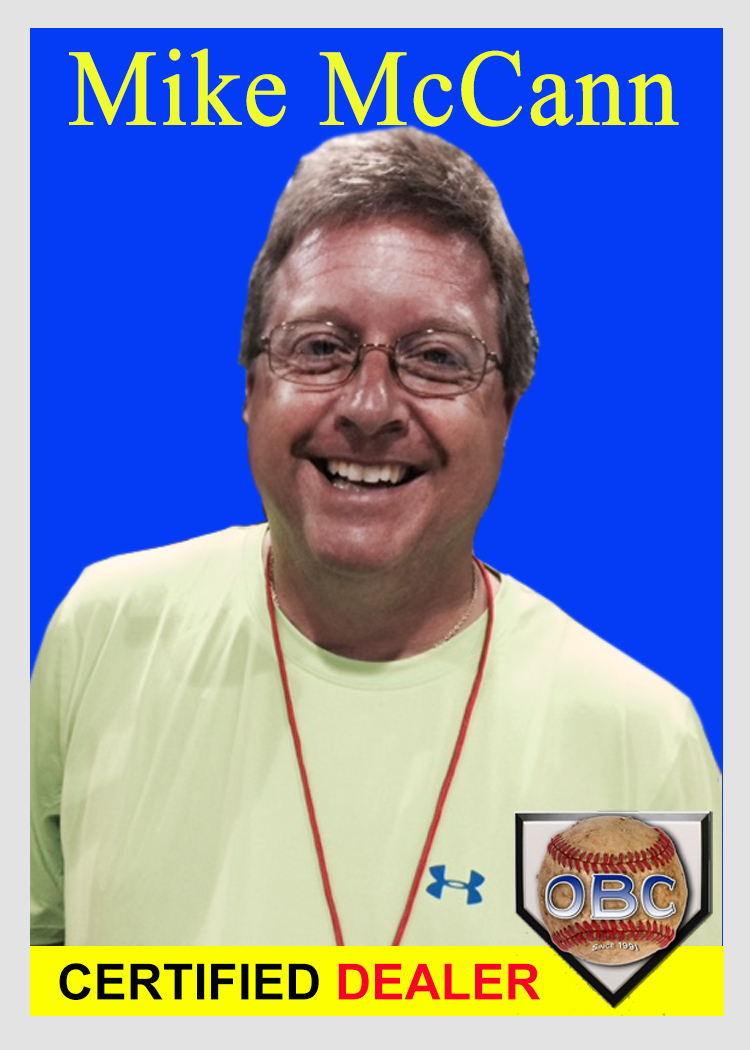 ---
---
OBC Discount:
25%
---
Dealer Comments:
A BIG fan of OBC and what you are all about! It brings me back to when I was eleven years old trading cards to complete my sets! I LOVE to see OBCers three deep at my table digging through those 3200 count boxes.
Bob McLean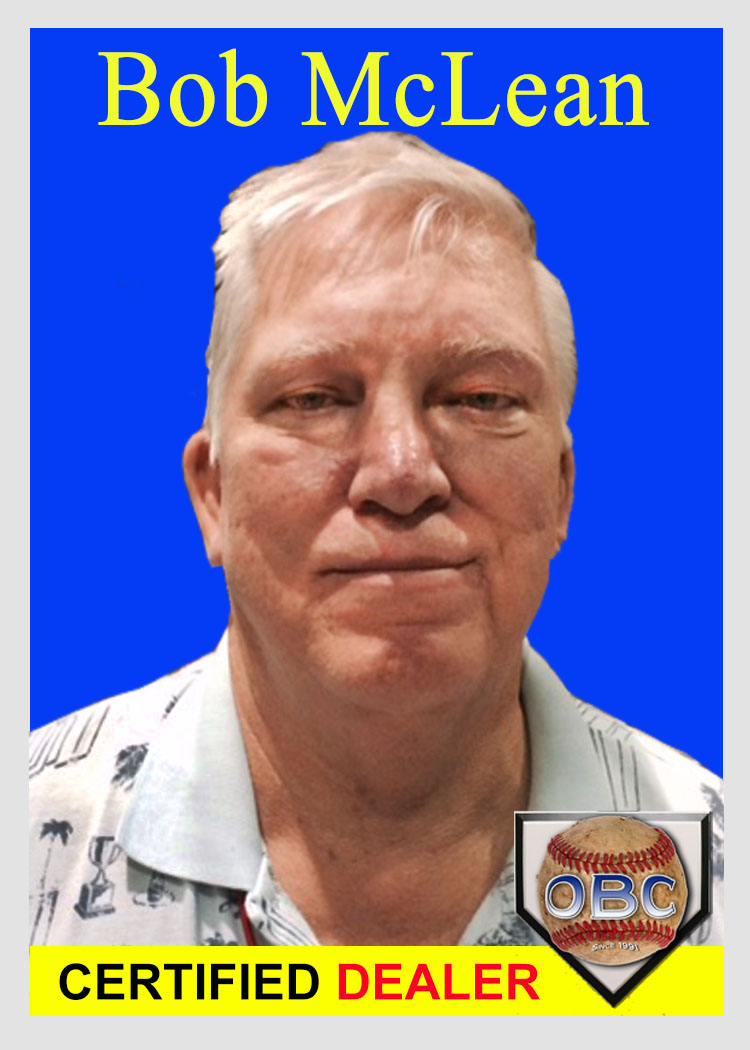 ---
---
Dealer Comments:
I have a "bargain box" with cards at 90% off and below. The inventory varies from show to show and I have cards from 1952 to 1975 in football and baseball. No hockey or basketball. You will find me near another OBC dealer Ron Estes at most shows. Ron usually has a ton of old cards in baseball. Thank you for adding me to you list.
Alan Miley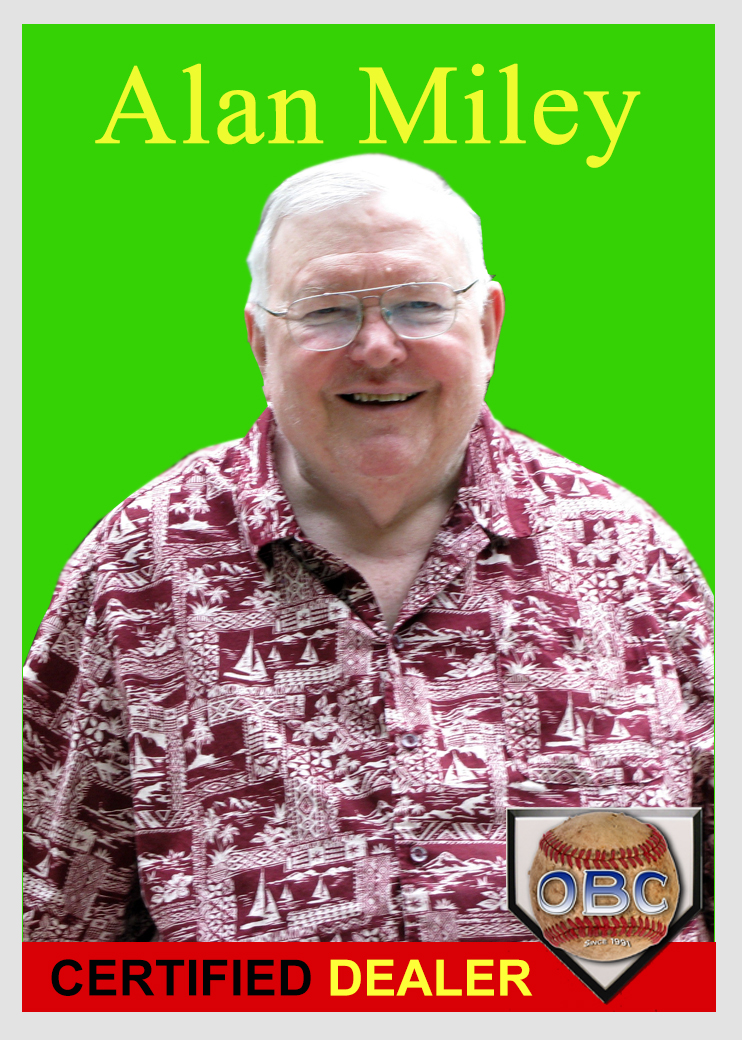 ---
John Morrison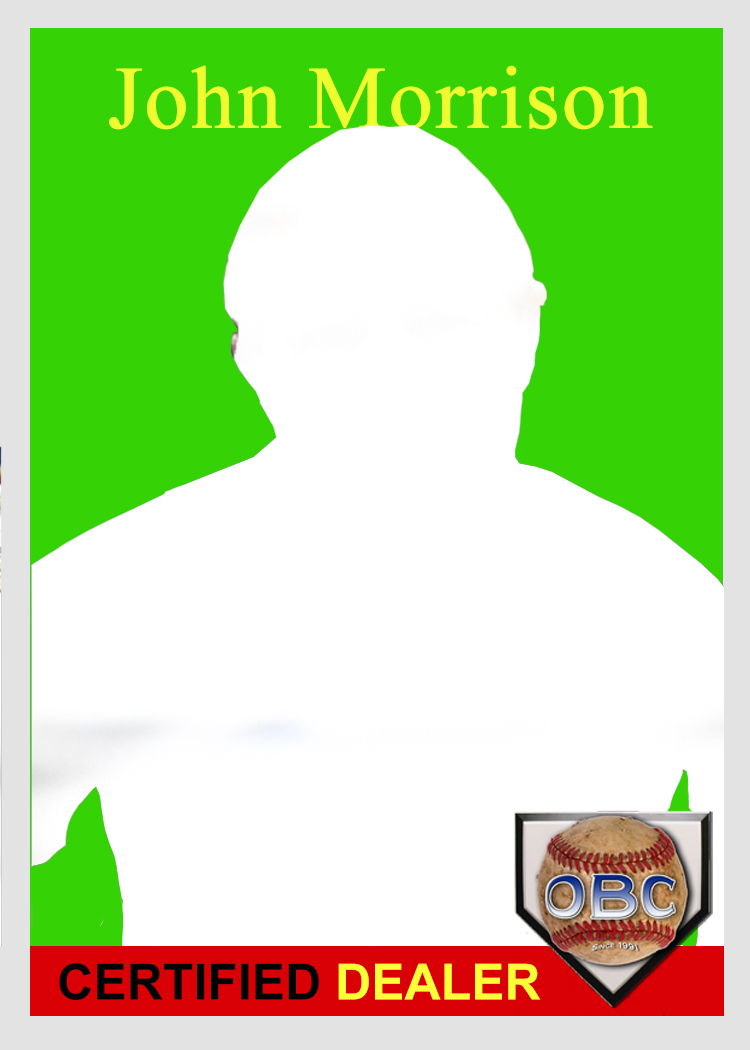 ---
---
OBC Discount:
25% off on orders over $20
---
Dealer Comments:
I will give obc members 25% off anything in my store. Lets say with a total of $20 with free shipping. I have tons of commons from 55 to 85. All conditions and all price to sell.
Jerry Nelson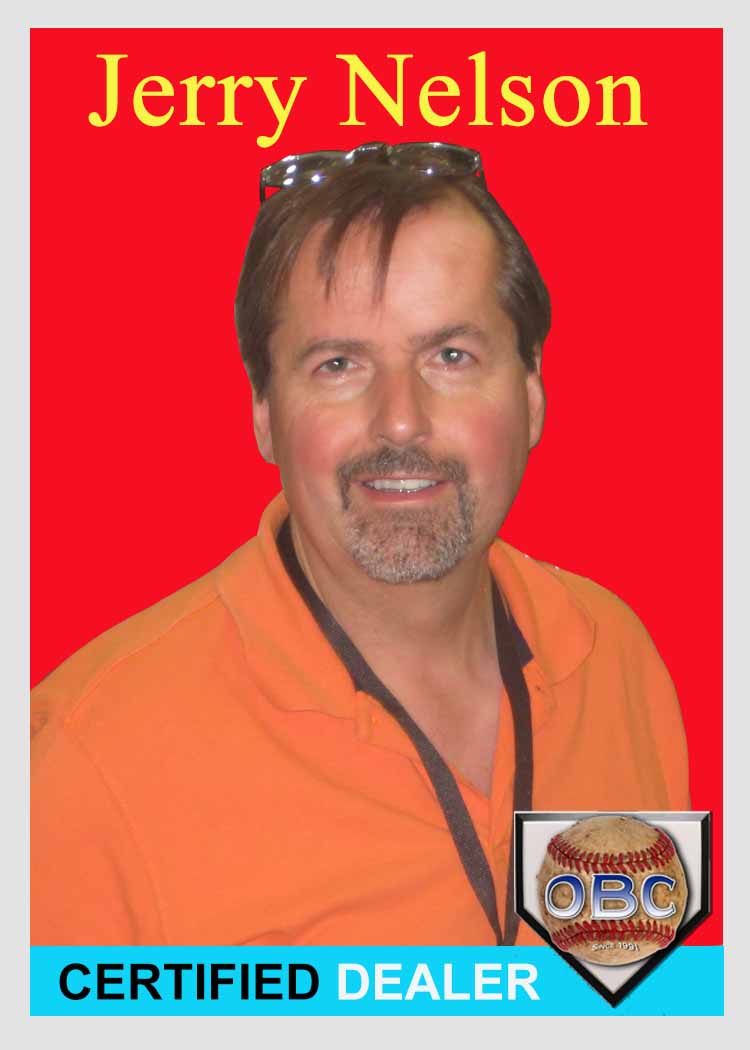 ---
---
OBC Discount:
OBC discount policy; nothing specific. As Lionel Richie would say, I am easy like Sunday morning. 10% is a given, then we work from there.
---
Dealer Comments:
I'm a cross between a collector and dealer, and may only do half dozen shows a year. I love the hobby and will do what I can to support OBC
Roger Neufeldt (Sports Memories)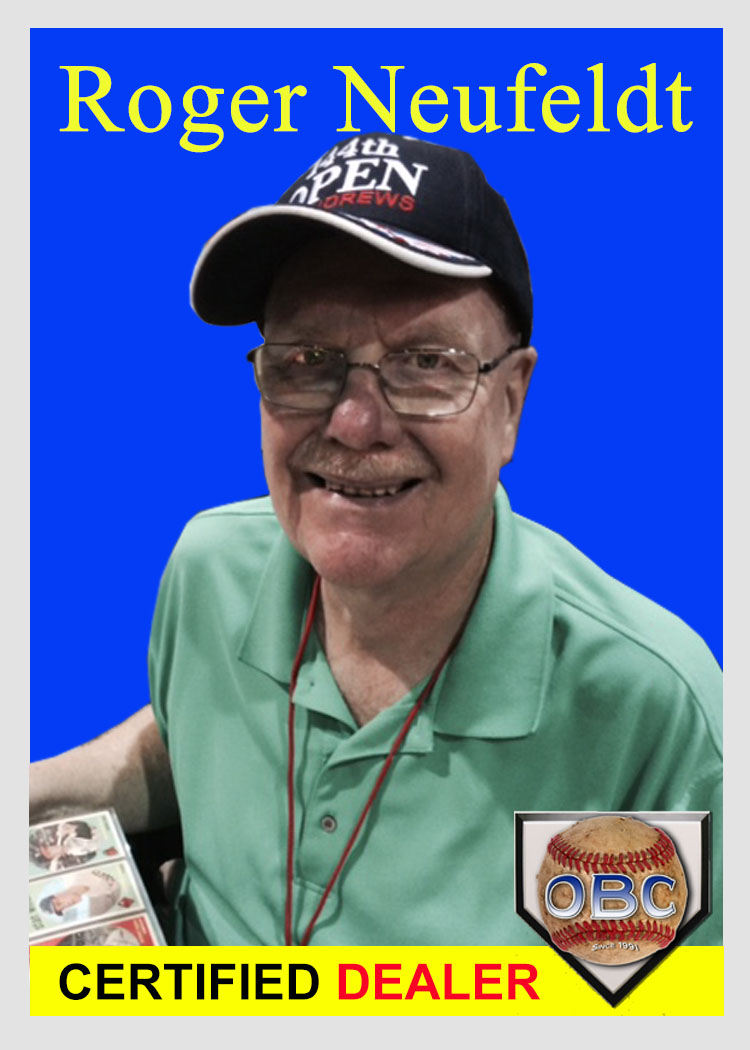 ---
---
OBC Discount:
My cell phone number is good for contacting me at shows. (Roger sets up at the major shows throughout the country and has been active in the hobby going back to the days of Buck Barker.)
Mike Sandles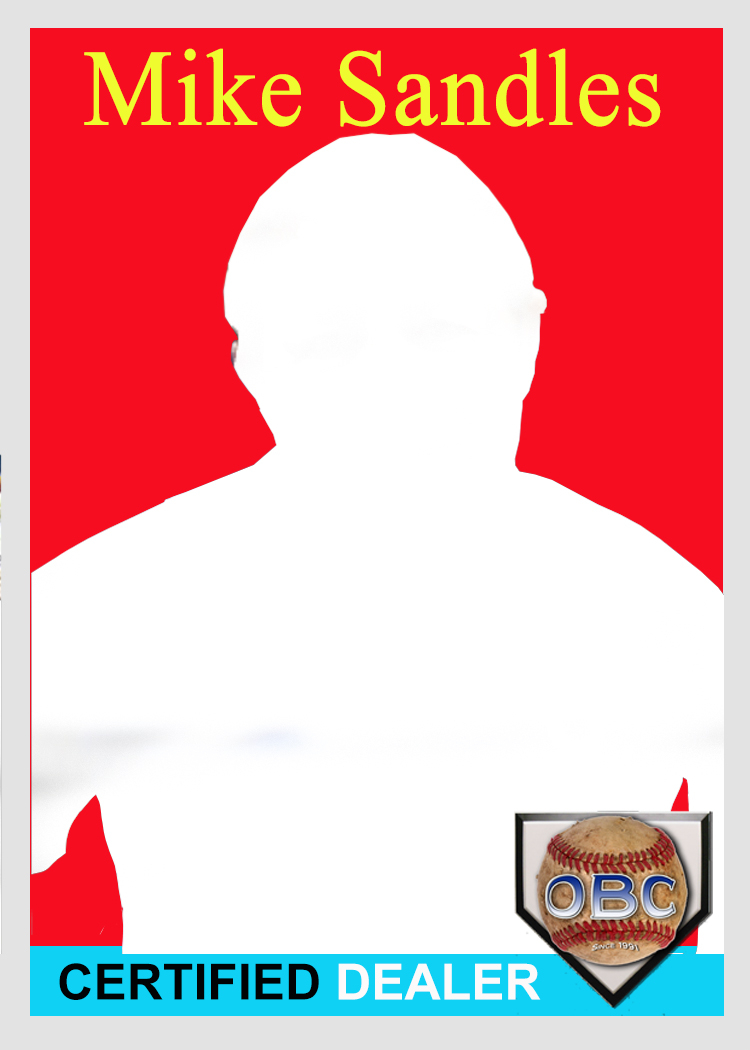 ---
Kevin Savage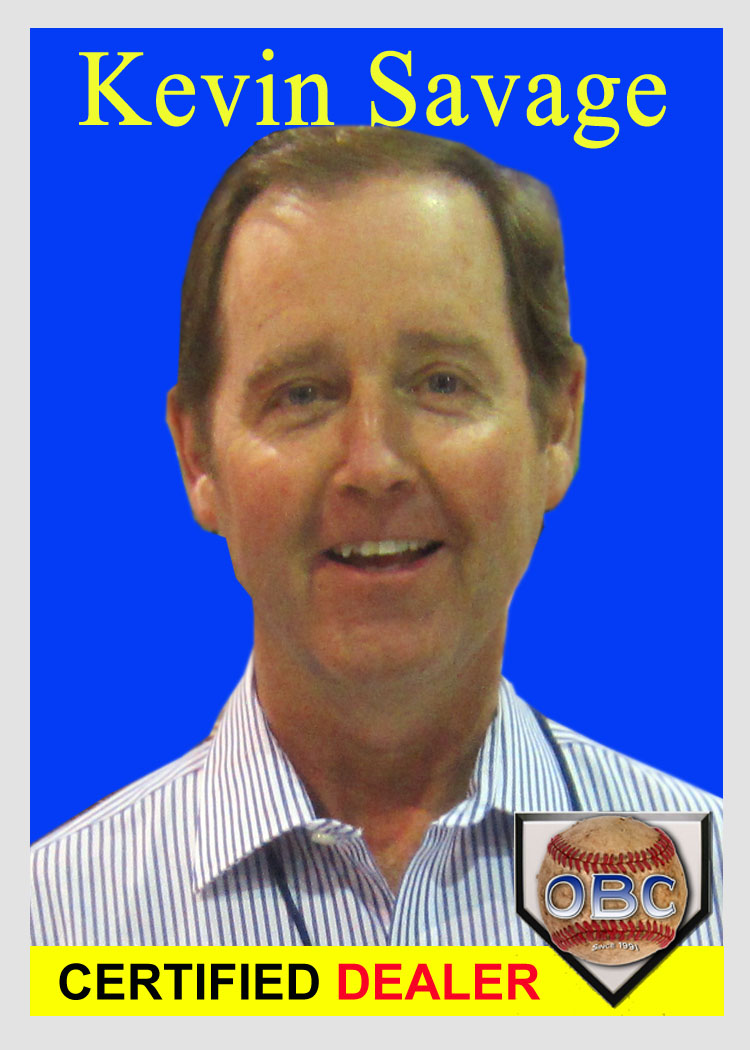 ---
---
OBC Discount:
I will work on a program for obc members- currently I just give obc members discounts at shows.
Mark Smith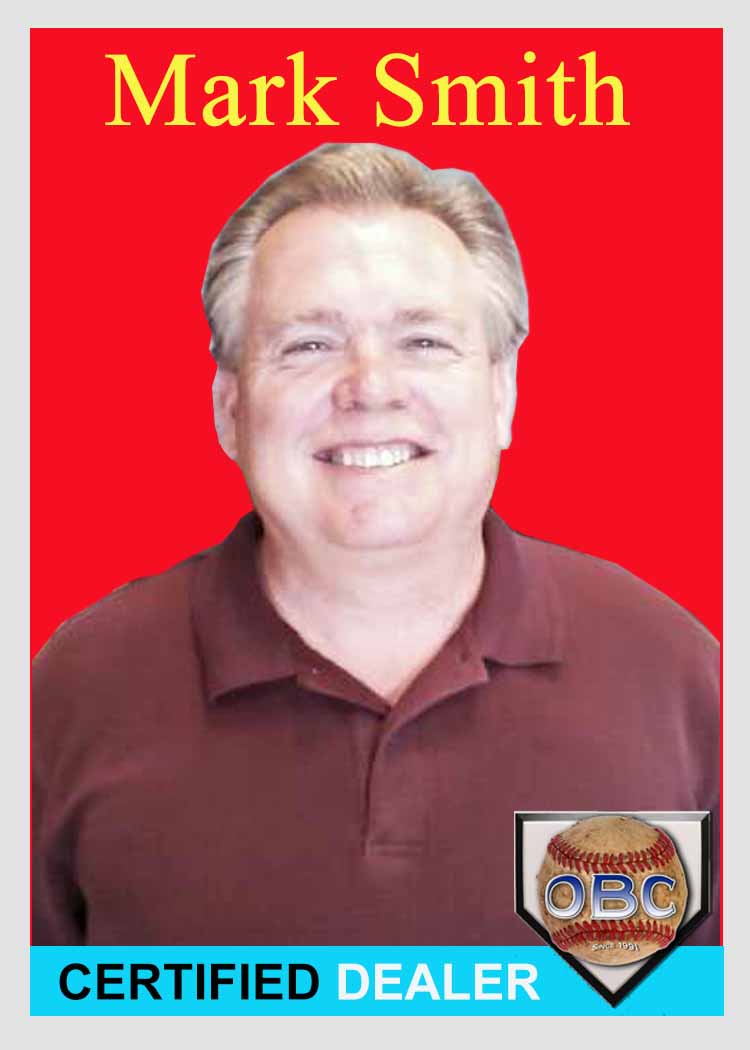 ---
---
OBC Discount:
My discount varies depending on the item but generally is somewhere between 20% and 30%. I give my discounts based on what I payed for the item, how much the customer is buying, and how good a customer he is.
Jimi Thayer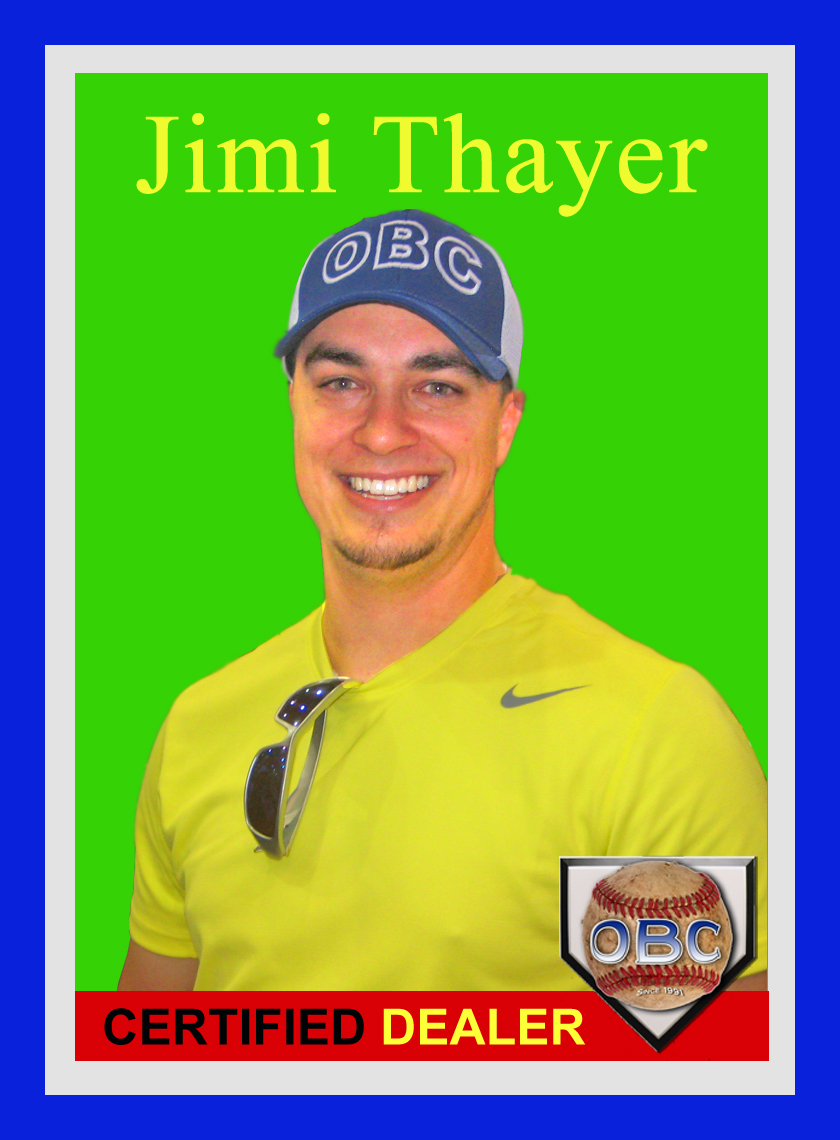 ---
Kurt Tourdot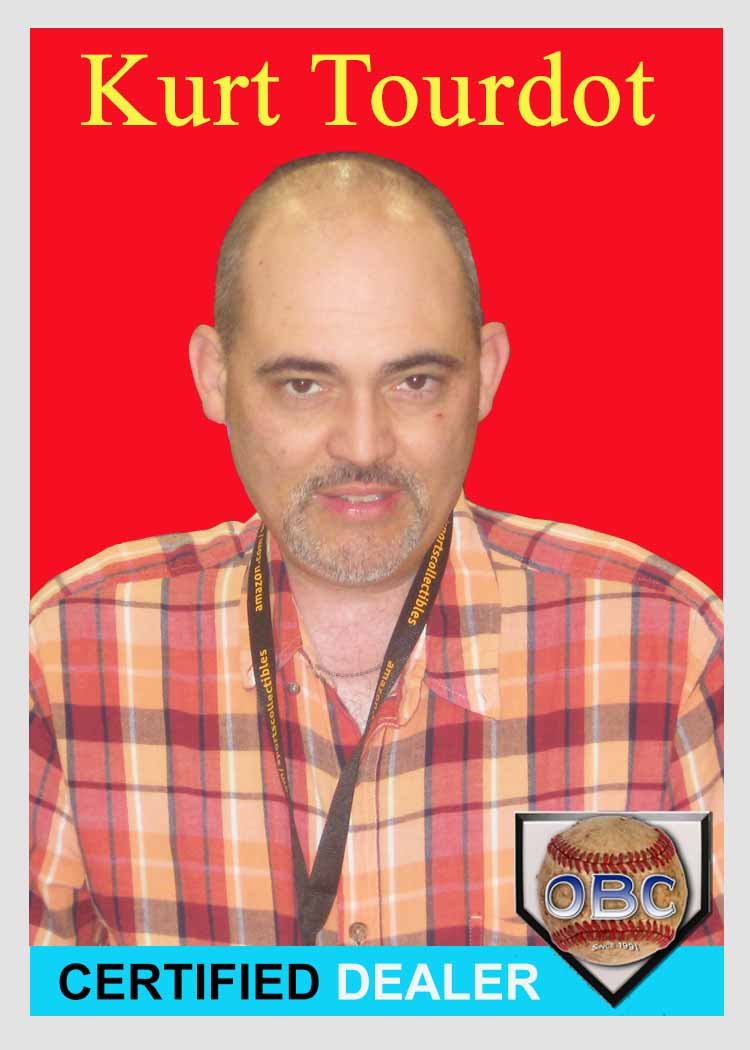 ---
---
OBC Discount:
Nothing set in stone, but as your members can attest, I always try to cut a fair deal and am willing to listen.
---
Dealer Comments:
Don't keep my webpage as up-to-date or as stocked as I would like, but feel free to always contact me if you are looking for a particular card or a list to be filled.
Dick Zimmerman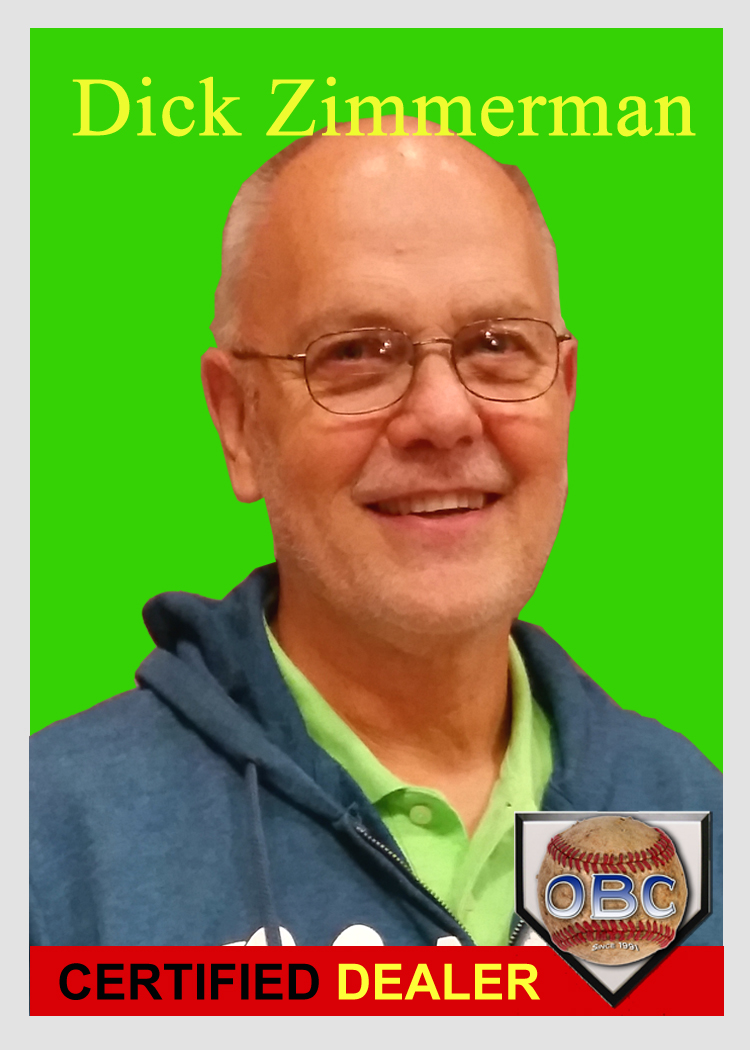 ---
---
OBC Discount:
I have no set discount but will work with the individual customer to make the best deal possible.
---
Dealer Comments:
I do a few shows a year including the National, shows in Columbus, Ohio and the Atlanta area and I like to fill want lists by mail. I accept cash, checks and PayPal.
---
OBC: A Tradition of Excellence since 1991
Old Baseball Cards (OBC), copyright © 1991 -
Unauthorized use of the material contained
on this page is strictly prohibited.