Mark Belanger
---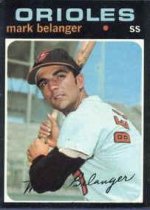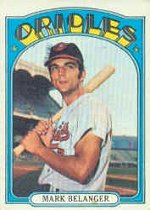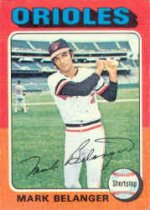 Nominated by: Sean McGowan
---
---
---
Why did Sean McGowan nominate Mark Belanger for the HOM?
---
I first remember rooting for the Orioles as a kid in Maryland during the 1969 season. I remember being terribly dissapointed by the series that year. Recovery was quick during the next season when the O's picked up a Championship. Even though I had to wait until 1983 for the next Championship, it seemed as though the Orioles were always right in the thick of things, including 2 game 7 losses to the Pirates ('71,'79) and lots of great playoff series with the A's. We called it Oriole Baseball. Defense, solid pitching, and 3-run home runs. It is not by accident that 'Defense' is listed first. If it weren't for the Oriole batters getting ground ball hits through the left side, I would have grown up thinking that it was not allowed. Balls on the ground between 3rd base and 2nd base just didn't go through. Brooks or Mark Belanger got every one. I will always remember Belanger going deep in the hole and jumping in the air to turn and throw to first. I grew up loving great defensive plays and truly understanding how important it was. Brooks got all the press because he could hit too, but both of them we what baseball was all about to me. Belanger was a career .228 hitter, but most people don't know that he hit .287 (that is not a type-o!) in 1969 and was a big part of the big RBI totals for the big sticks in the lineup. Apparently, after hitting .208 in 1968, Mark spent alot of time with the hitting instructors during the '69 season, and got great results. As the stroy goes, he couldn't be bothered with it after that and spent his time perfecting his fielding. A man with real focus! Can you blame him with Brooks, Boog, Frank, Don Buford, and Paul Blair to take care of the offense?
---
---
OBC: A Tradition of Excellence since 1991
Old Baseball Cards (OBC), copyright © 1991 -
Unauthorized use of the material contained
on this page is strictly prohibited.