Charlie Maxwell
---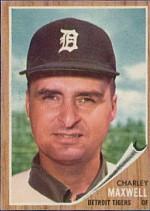 Nominated by: Earl Kilbourn
---
---
---
Why did Earl Kilbourn nominate Charlie Maxwell for the HOM?
---
I would like to nominate fellow Michiganian and Detroit Tiger outfielder Charle Maxwell. Born in Paw Paw, MI in 1927, Charlie started out in baseball as a pitcher before moving to the outfield. Although he was frequently referred to as 'Paw Paw', his real fans knew his nickname was really Smokey. Known for his Sunday home runs (11 of his 31 homers in 1959) Charlie was a powerful clutch hitter who gave young fans like myself a lot of thrills in his day. As a southpaw myself, whenever I played the outfield at the play-ground I was always Charlie Maxwell. Unfortunately my slugging percentage was woeful in comparison.
---
---
OBC: A Tradition of Excellence since 1991
Old Baseball Cards (OBC), copyright © 1991 -
Unauthorized use of the material contained
on this page is strictly prohibited.