Milt Pappas
---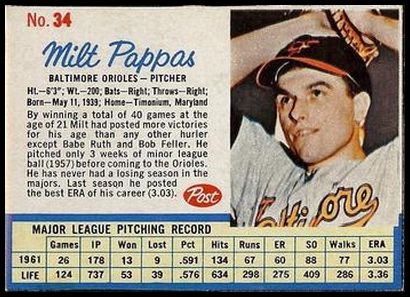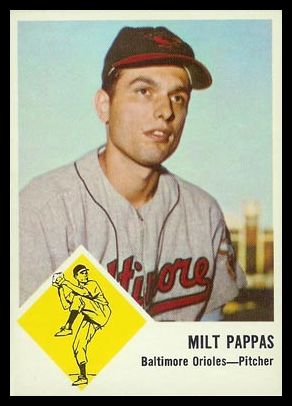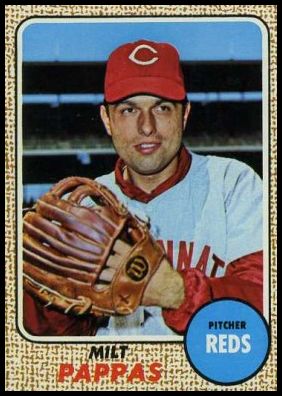 Nominated by: Randy Krolewicz
---
---
---
Why did Randy Krolewicz nominate Milt Pappas for the HOM?
---
Several years ago, as I looked at the back of his 1974 Topps baseball card (number 640), I noticed that Milt Pappas won 10 or more games in a season eleven straight years from 1958 to 1968, and again in 1970, 1971 and 1972. During his big-league career of 16-plus seasons, he won 209 games, had 1728 strike outs, an ERA of 3.40, and a .560 winning percentage. Milt was the first pitcher to win 200 games and never have a 20-win season. He was the starting American League pitcher in the 1965 All-Star Game and pitched a no-hit game in 1972.

Despite all these accomplishments, Milt may be best known for being traded from the Orioles to the Reds in late 1965, a trade that brought eight-time all-star and 1961 National League MVP Frank Robinson to Baltimore. In the 1966 World Series, the Orioles swept the Dodgers, and their now Pappas-less pitching staff shut out Los Angeles over the final 33 1/3 innings of the series. Robinson was the World Series MVP and, also won the 1966 American League Triple Crown and season MVP award. Some say this was the most lopsided trade in baseball history.

Pappas played for the Orioles from 1957 to 1965; the Reds in 1966, 1967 and 1968; the Braves in 1968, 1969 and 1970; and the Cubs in 1970 through 1973. He was named to the Orioles Hall of Fame in 1985.

Interestingly, both Pappas and Robinson are depicted as Orioles on their 1966 Topps baseball card. Milt's card number 105 was in the first series (released by Topps in early spring), while Frank's number 310 was in the third series (released later that spring). Robinson's card back states "Frank was traded to the Orioles last winter." In the 1967 Topps set, Milt Pappas is the only player whose facsimile autograph does not appear on his card (number 254). Similar to all-time greats Clemente and Mantle, Milt's final (1974) Topps card includes his complete MLB career statistics, as he was released by the Cubs before the start of the season and never played another game. Pappas (card number 5) was included in the 60-card 1964 Topps Giants set, a set which many (non-OBCers) consider mediocre. In fact, with the inclusion of Milt into the Hall of Mediocrity, there will be eight HoMers in the Giants set, in addition to the 21 HoFers, bringing the HoF/HoM roster in this set to almost "halfway up the hill."

I can think of no player in my lifetime who had a more mediocre Major League career than Mr. Pappas.
---
---
OBC: A Tradition of Excellence since 1991
Old Baseball Cards (OBC), copyright © 1991 -
Unauthorized use of the material contained
on this page is strictly prohibited.