Gil Hodges
---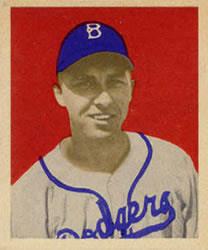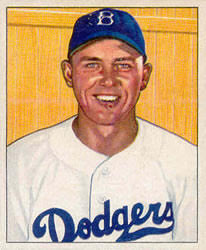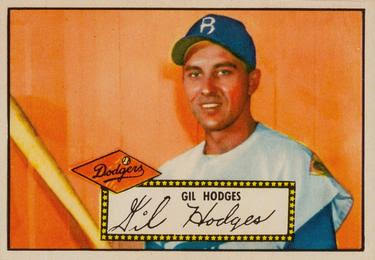 Nominated by: Dave Toback
---
---
---
Why did Dave Toback nominate Gil Hodges for the HOM?
---
Gil Hodges is one of those players who people will argue about for entry into the Hall of Fame for multiple reason, and many, including me (although I never got to see him play) think he's quite a reasonable choice. Indeed as the only player/manager who ever reached 60% on the balloting (and missed by a single vote one year), yet wasn't enshrined, there is a good chance he'll get in. While history has been kind to the man, advanced statistics haven't been kind to the case. I'll share 4 things, much of which are stolen from The Cooperstown Casebook by Jay Jaffe.
As a player, he won 3 gold gloves, had big HR and RBI totals (although RBI's are overrated), and was the regular first baseman on 6 pennant winners and 2 WS champions. On the other hand both of these clearly benefited from playing in hitter friendly Ebbet's field and being surrounded by a plethora of HOFers.
As a manager, he is best known for leading the 1969 Miracle Mets to a Championship (although they did win over my beloved Cubs, many of whom since being enshrined as HOFers are no longer eligible to be my HOMer). On the other hand, other than that one great year his record as a manger is over 130 games under 500.
Rule 5 for the Baseball Writers Association of America states "Voting shall be based upon the player's record, playing ability, integrity, sportsmanship, character, and contributions to the team(s) on which they played." I note with amusement that this "rule was introduced in 1944 by Hall founder Stephen Clarke and Commissioner Kenesaw Landis, a man so brimming with integrity, sportsmanship, and Character that he spent his 24-year tenure upholding the game's color line. Anyhoo…. To quote writer Red Smith "if the votes are based, as the rules said, on the player's integrity, Sportsmanship and Character, Gil will ride in."
Perhaps the most important to me is my tie to him through my father who grew up in Brooklyn in the 50's. While Jackie was his hero (like he was to most people), he talked most about Gil. The love for Gil was remarkable, as people even prayed for him when he went through his major slump (videos showed he was "stepping in the bucket"). He talked about Gil as being the one who wasn't as talented, yet played the game "the right way." That's how I was taught to play. Indeed, the non-HOFer with the most cards on my wall is, by far, Gil Hodges.
---
---
OBC: A Tradition of Excellence since 1991
Old Baseball Cards (OBC), copyright © 1991 -
Unauthorized use of the material contained
on this page is strictly prohibited.