Woodie Held
---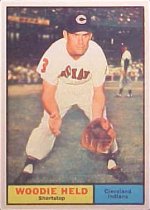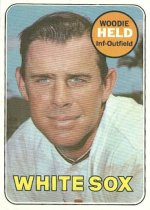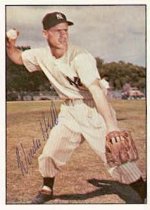 Nominated by: Bill Malson
---
---
---
Why did Bill Malson nominate Woodie Held for the HOM?
---
Why Woodie? Lots of reasons: He was from Wyoming. No baseball players are from Wyoming! He was the only baseball player I knew that looked more like a cowboy than a baseball player. Just look at that sun-weathered face, you can see it atop a horse. He was a Cleveland Indian - and I was a huge Tribe fan. But most of all, it had to do with my 10-year old perception of reality. I watched the Yankees, and I saw Mantle and Maris, and even at 10, I knew that I would never be able to play ball like that. But when I saw Woodie play shortstop, I figured that I might have a chance to be that good. Turns out, of course, that I really didn't. It only made it better when I learned that Woodie spent post-baseball years running a dude ranch and being a western hunting guide. I mean, he really was a cowboy after all. Woodie, wherever you are now, I wish you the best...
---
---
OBC: A Tradition of Excellence since 1991
Old Baseball Cards (OBC), copyright © 1991 -
Unauthorized use of the material contained
on this page is strictly prohibited.