Tommy Harper
---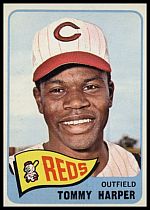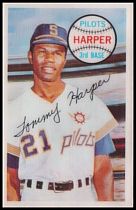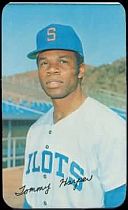 Nominated by: Joel Freedman
---
---
---
Why did Joel Freedman nominate Tommy Harper for the HOM?
---
I met Mr. Harper at a card show in Mansfield Massachusetts in the spring of 2014. The card dealer asked him to come over to his table as he was entering the hall. Mr. Harper was very personable, engaging in sports conversation and other random topics. He was physically fit and we remarked about he could still steal a base at the age of 74. He periodically returned to Seattle for baseball card signing and his signature is highly sought. From a person who does not meet many MLB players Mr. Harper has emerged as my HOM for OBC.
Played for:
Cincinnati Reds
Cleveland Indians
Seattle Pilots/Milwaukee Brewers
Boston Red Sox
California Angles
Oakland Athletics
Baltimore Orioles
Coached:
Boston Red Sox
Montreal Expos
Highlights:
24-consecutive-game hitting streak (July 17 – August 8, 1966)
sixteen games with 4 hits
4 stolen bases vs. the Chicago White Sox (June 18, 1969) three games with 3 stolen bases
All-Star (1970)
Led National League in runs (126, 1965)
Twice led American League in stolen bases (73, 1969; 54, 1973)
Became the fifth 30-30 club member (31 home runs and 38 stolen bases, 1970
Boston Red Sox MVP (1973)
Top 10 American League MVP (1970)
His career 408 stolen bases ranks him 61st on all-time list
Single-season stolen base records for the Brewers
---
---
OBC: A Tradition of Excellence since 1991
Old Baseball Cards (OBC), copyright © 1991 -
Unauthorized use of the material contained
on this page is strictly prohibited.