Stan Hack
---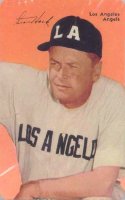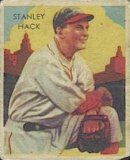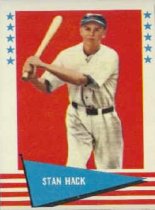 Nominated by: Wayne Delia
---
---
---
Why did Wayne Delia nominate Stan Hack for the HOM?
---
Stan Hack is actually a 'borderline' Hall of Mediocrity candidate, because his lifetime career batting average was a single percentage point above .300, and his 1962 Fleer card #110 describes him as 'one of the greatest of all National Leage third basemen.' Stan never won a World Series championship, playing his entire career for the Chicago Cubs. He returned to Chicago as a manager following his job at the helm of minor league teams in Des Moines, Springfield (Isotopes?), and Los Angeles, after his retirement in 1948. Stan Hack was chosen to represent the OBC spirit of generosity and anonymity - when a particularly significant contribution is made, the generous member remains anonymous by setting the return address simply to 'Stan Hack'.
---
---
OBC: A Tradition of Excellence since 1991
Old Baseball Cards (OBC), copyright © 1991 -
Unauthorized use of the material contained
on this page is strictly prohibited.