Minnie Minoso
---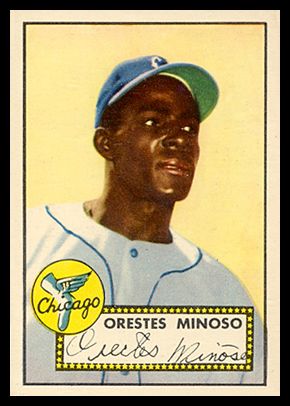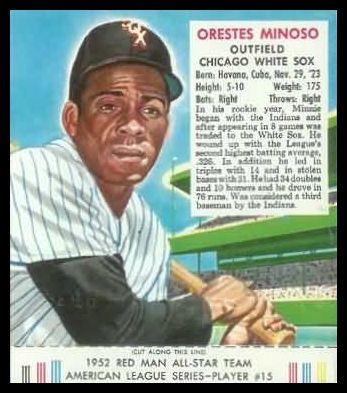 Nominated by: Mike Mackie
---
---
---
Why did Mike Mackie nominate Minnie Minoso for the HOM?
---
I would like to nominate Minnie Minoso of the Chicago White Sox. Minnie was a great Negro pioneer, making his major league debut in 1949 and becoming the first African-American player on the White Sox two years later. I knew of Minoso long before I delved into card collecting or baseball history. My grandmother tells the story of a bench clearing brawl that it seems everyone but Minoso took part in. After the game Minnie was asked why he did not join in the fray, and his response was 'me no fight, me play baseball'. Minoso was a fan favorite who played in five different decades (1940s-1980s). Minoso has shown up on the Old Time ballots from time to time, meaning there is always a chance he could get elected to Cooperstown. Whether he will or not, who knows.
---
---
OBC: A Tradition of Excellence since 1991
Old Baseball Cards (OBC), copyright © 1991 -
Unauthorized use of the material contained
on this page is strictly prohibited.