Mickey Stanley
---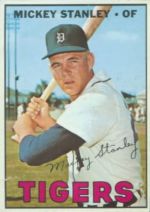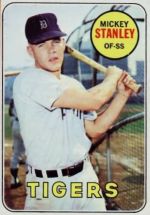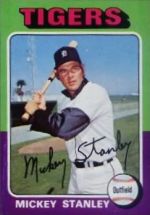 Nominated by: Mike Mroz
---
---
---
Why did Mike Mroz nominate Mickey Stanley for the HOM?
---
I would like to nominate Mickey Stanley for the Hall of Mediocrity. While playing among fellow Tigers of the 60's such as Kaline, Horton, Cash, Lolich, Freehan and McLain, he managed to rack up a career batting average of .248. He helped the 1968 Tigers win the World Series by moving to shortstop to fill in for the weak-hitting Ray Oyler and allow Al Kaline to return to right field. He led the league that year by grounding into 22 double plays and finished 25th in MVP voting with 2 points. He played a total of 15 seasons, all while wearing the Old English 'D'. A truly mediocre, but totally memorable, ballplayer.
---
---
OBC: A Tradition of Excellence since 1991
Old Baseball Cards (OBC), copyright © 1991 -
Unauthorized use of the material contained
on this page is strictly prohibited.