Mark Fidrych
---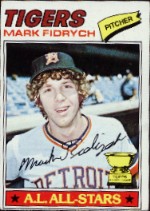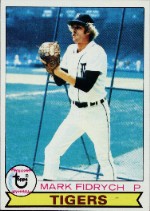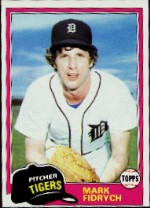 Nominated by: John McLaughlin
---
---
---
Why did John McLaughlin nominate Mark Fidrych for the HOM?
---
---
I chose Mark Fidrych for my HOM nominee because first of all he was a very talented pitcher who I believe would have been one of the best ever if he hadn't suffered injuries. But the main thing about him that I like was his enthusiasm for the game of baseball. I sent Grant a scan of a Polaroid picture of my son with Mark Fidrych sometime around 1990. Fidrych was signing at a card show in a mall, so I brought my son Jason to get an autograph. There was a long line of adults and when my son's turn came he was the first youngster encountered. Fidrych looked up and gave my son a smile and waved him around the table to sit next to him. He signed Jason's card and had the Polaroid picture taken of them, which he also signed. I thought this was really a class act.


---
---
OBC: A Tradition of Excellence since 1991
Old Baseball Cards (OBC), copyright © 1991 -
Unauthorized use of the material contained
on this page is strictly prohibited.