Bobby Bonds
---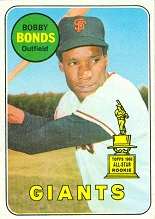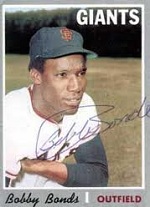 Nominated by: Randy Welk
---
---
---
Why did Randy Welk nominate Bobby Bonds for the HOM?
---
Bobby Bonds hit a Grand Slam in his first major game on June 25, 1968. And it was against the Dodgers. Others have done that but did not do as much after as this guy. Bobby Bonds was fast. I saw him play at Candlestick Park in the very early 70's and he went from first to third on a single in under 2 seconds. That is how I remember it.
He was my favorite. As everyone was watching Willie Mays, I watched him. He played for eight teams in fourteen years with seven for the Giants. 332 Home runs and 461 Stolen Bases. Five times he hit 30 home runs and stole 30 bases in a season. Set a record doing that along with strike out records. Bobby Bonds swung the bat. Sometimes great things happened, sometimes he missed, sometimes he just ran fast.
Anyone who swings that much and runs that much belongs somewhere. Bobby Bonds belongs in the OBC HOM.
---
---
OBC: A Tradition of Excellence since 1991
Old Baseball Cards (OBC), copyright © 1991 -
Unauthorized use of the material contained
on this page is strictly prohibited.