Jimmy Piersall
---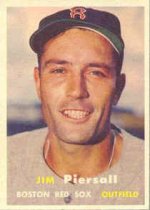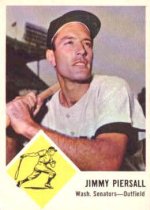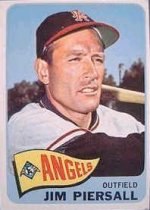 Nominated by: Dan Austin
---
---
---
Why did Dan Austin nominate Jimmy Piersall for the HOM?
---
I first became interested in Jimmy Piersall as a teenager. After a round of golf and a few beers, my dad would reminisce and he began to relate to me stories of the game he loved: baseball. Stories of Bob Feller's blazing fastball, Ryne Duren's cokebottle glasses and most of all, of the colorful antics of a young Red Sox outfielder named Jimmy Piersall. My parents were married in 1953 in the Boston area, so my father spent quite a few afternoons of 1952 and 1953 in the stands at Fenway Park watching Piersall during his most colorful period. Stories of Jimmy cleaning off homeplate with a squirt gun, leading cheers for himself in the outfield and more are what kept Jimmy in my memory for 20 years. In 1998, I renewed my childhood love of collecting baseball cards. Soon, my interests began to focus on vintage cards, and this has led me back to the memories of my childhood. One of which is a spirited young outfielder who could catch anything within a mile of him and entertain the fans like no other. Of course, that man was Jimmy Piersall. Jimmy, if you're out there, thanks for the memories...
Click here to visit 'The Piersall Place'.
---
---
OBC: A Tradition of Excellence since 1991
Old Baseball Cards (OBC), copyright © 1991 -
Unauthorized use of the material contained
on this page is strictly prohibited.