George Foster
---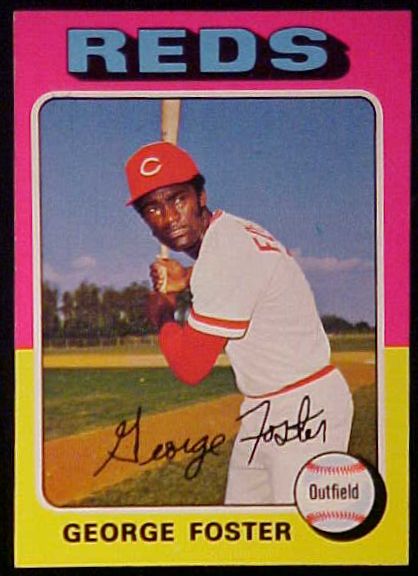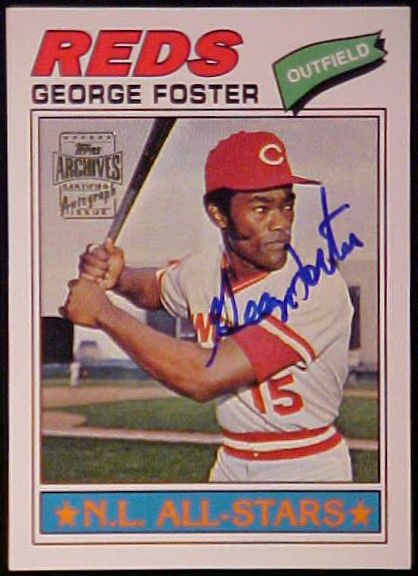 Nominated by: John Stamper
---
---
---
Why did John Stamper nominate George Foster for the HOM?
---
George Foster is my choice for the Hall of Mediocrity. George started out with the Giants in 1969. Half way through the 1971 season, George Foster became a member of the Reds. A playoff caliber team that was missing some power and George was that power. With the addition of Joe Morgan and Ken Griffey the year after, "The Big Red Machine" was complete.
George played for my Favorite team, the Cincinnati Reds. I lived in Los Angeles and whenever the Reds were in town I went to the Stadium to see the greatest team of my era play baseball. George was fun to watch play. He had a great arm that few would dare test, the ones that did were often out. I always made sure I was in my seat when George was batting, you did not want to miss a Foster swing.
The 1975 World Series between the Reds and Red Sox was one of the best I ever watched. Game six, with the Reds leading 3 games to 2, Boston batting in extra innings and a runner on third with less than two outs, George demonstrated his great arm for the Nation to see. They hit a fly ball down the left field line and Foster caught it only feet from the sidewall. He fired the ball into Bench on a line and nailed the runner trying to score. Keeping the game tied and allowing one of the greatest World Series moments to happen, Fisk's Homerun, forcing game 7, where the Reds took the game and the first of 2 World Series in a row.
George went on to win the Home Run and RBI title in 1977 and again in 1978. His best year was 1977 when he hit 52 Home Runs and drove in 149 runs. Between 1966 and 1989, George was the only player to hit more than 50 Home Runs in a season. Those 24 years are the longest in modern Baseball with only one player hitting 50 or more Home Runs in a season.
---
---
OBC: A Tradition of Excellence since 1991
Old Baseball Cards (OBC), copyright © 1991 -
Unauthorized use of the material contained
on this page is strictly prohibited.