Don Mincher
---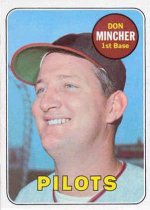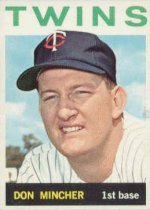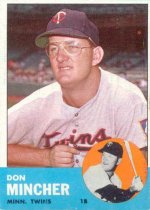 Nominated by: Matt Shirley
---
---
---
Why did Matt Shirley nominate Don Mincher for the HOM?
---
Don is from my neck of the woods, northern Alabama. He played in the bigs from 1960-1972 for the Senators, Twins, Angels, Pilots, and the Athletics. Don is the only player to play for both Senators teams and the Twins and Rangers. He made the All Star team twice in his career. He earned his starting role by hitting 23 home runs in just 287 at-bats in 1964. When I played little league ball in the 70's, we bought all of our league trophy's and most of our equipment from Mincher's Sporting Goods in Huntsville, AL.
---
---
OBC: A Tradition of Excellence since 1991
Old Baseball Cards (OBC), copyright © 1991 -
Unauthorized use of the material contained
on this page is strictly prohibited.