Pete Reiser
---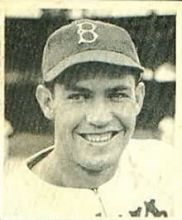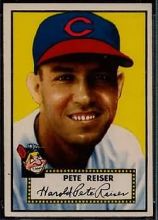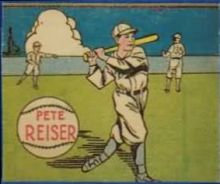 Nominated by: Brian Betza
---
---
---
Why did Brian Betza nominate Pete Reiser for the HOM?
---
I chose Pete for a few reasons. He was a Pirate for a year but I would have picked him regardless....although it doesn't hurt :>}
First he had the talent to be in Cooperstown. As a rookie in 1941 he hit .343 to become the first rookie to win the NL batting title. He also led the league in triples, runs, slugging %, total bases and tied in doubles. In 1946 he stole home 8 times...according to Pete the ump who called him out the one time he was caught whispered "I missed it" so he should have had 9. Leo Durocher called him the best ballplayer he had with the possible exception of Willie Mays. In 1941 he was rumored to be the next Ty Cobb. A NY sportswriter wrote " Any manager in the NL would give up his best player to obtain Pete Reiser."
What happened is reason number two. Pete played the game at 100% ALL the time. In his 15 1/2 years of minor, army and major league baseball he was carried off the field an amazing 11 times. Seven times it was due to crashing into the then unpadded concrete outfield walls. In 1942 he tried to chase down Enos Slaughter's 12th inning fly ball but met the wall instead... he still managed to get the ball to Pee Wee Reese before he collapsed. In 1946 after the Dodgers added some additional seating, Pete thought he had plenty of room to make a catch...he didn't. He slammed into the wall and collapsed unconscious with the ball still in his glove for the second out. The doctor called for a priest to administer last rites... Pete survived. From breaking his right arm throwing and learning to throw lefty "just in case" to ripping his leg muscles running out a grounder he never stopped playing baseball.
Reason number three is shared by many in what some have called the "greatest generation"..no regrets. He gave 3 of his prime years to the military and ended a good part of his potential thru injury. Pete was asked "..do you ever think that if you hadn't played as hard as you did, there's no telling how great you might have been...?" Pete answered " Never. It was my way of playing. If I hadn't played that way I wouldn't even have been whatever I was. God gave me those legs and the speed, and when they took me into the walls that's the way it had to be."
I would encourage everyone to read W.C. Heinz's "The Rocky Road of Pistol Pete" for the complete inspiring story of Pete Reiser. Send me an e-mail if you need help finding a copy.
---
---
OBC: A Tradition of Excellence since 1991
Old Baseball Cards (OBC), copyright © 1991 -
Unauthorized use of the material contained
on this page is strictly prohibited.