Boog Powell
---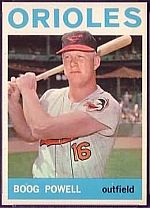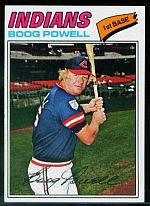 Nominated by: Rick Lyons
---
---
---
Why did Rick Lyons nominate Boog Powell for the HOM?
---
As a kid in the Northwest we didn't have a home town baseball team so the Orioles were my favorite team. I related to Boog because I was big and played first base but mainly I had a nickname since I was born and all my family members called me through most of my life, and a few still do. I hated it but could never shake it. I got comfort in this ballplayer having almost the same name and was doing OK and maybe a little proud of it. If you haven't guessed yet it was 'Boob'. Rick
---
---
OBC: A Tradition of Excellence since 1991
Old Baseball Cards (OBC), copyright © 1991 -
Unauthorized use of the material contained
on this page is strictly prohibited.