Bob Uecker
---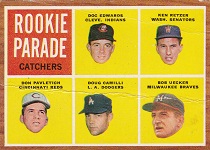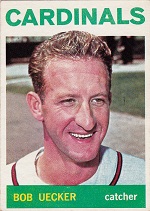 Nominated by: Mike Jackson
---
---
---
Why did Mike Jackson nominate Bob Uecker for the HOM?
---
I have an individual that I think might qualify for the Hall of Mediocrity. Although he was inducted into the National Radio Hall of Fame in '01, and the WWE Hall of Fame in '10, somehow I don't think he will ever make the Baseball Hall on his playing merits. He does have a World Series ring, and has been connected with baseball since his playing days were over. Of course I'm talking about the beloved Bob Uecker. He was a member of the St. Louis Cardinals, which puts him on my list of favorite players. One of my favorite writers, Rob Rains, told of some of the sillyness of Uecker in his book about the 100th anniversary of the Cardinal's.
---
---
OBC: A Tradition of Excellence since 1991
Old Baseball Cards (OBC), copyright © 1991 -
Unauthorized use of the material contained
on this page is strictly prohibited.