Billy Hoeft
---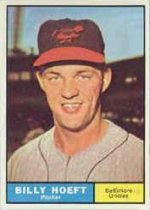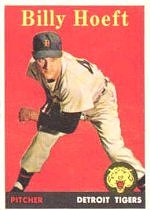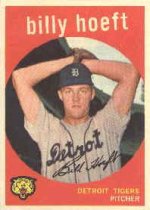 Nominated by: Grant Rainsley
---
---
---
Why did Grant Rainsley nominate Billy Hoeft for the HOM?
---
Billy was the inspiration for the Hall of Mediocrity. When I started collecting cards again, I found his variation card from '62 tough to find. Later, I realized he had three variation cards in '58, and two more in '56. Not to mention three Dixie Lids. Who else in the history of baseball cards has that many variations? I looked into Billy's history, with a lot of help from OBC along the way. In high school, Billy not only pitched a perfect game, but struck out all 27 batters he faced. Don Larsen, eat your heart out. Refused to take a bonus for signing, more interested in developing a long term strategy for his future. (Like that happens a lot today.) Billy hit two dingers in one game. Career B.A. over the Mendoza Line...(.202), All Star in '55, and the next year he won 20. 'Grooved' a pitch to Harmon Killebrew, who was suffering in his rookie year, for his first big league dinger. Led the A.L. in E.R.A. in '61, but fell a few innings short of qualifying for the title. I've tried to write to Billy a couple of times, no luck. Just a natural for the HOM....Billy deserved a lot better than he got, but I bet he enjoyed every minute.
---
---
OBC: A Tradition of Excellence since 1991
Old Baseball Cards (OBC), copyright © 1991 -
Unauthorized use of the material contained
on this page is strictly prohibited.